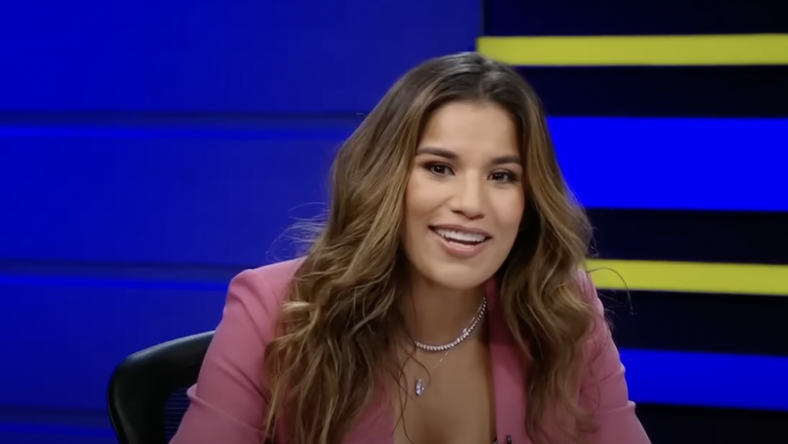 Julianna Peña via ESPN MMA YouTube
Former champion Julianna Pena admits she was bothered by Amanda Nunes opting to retire after her latest win at UFC 289, but she is now prepared to lead the division into the next generation.
Julianna Pena Discusses UFC 289, Post-Amanda Nunes Career
Now that she has had time to think about it, Julianna Pena is ready to move past Amanda Nunes.
The former champion was in attendance to watch as Nunes defended her title at UFC 289 and announced her retirement from the sport.
"She's retired, she's off in the sunset, she's dead to me at this point," Pena said during an appearance on The MMA Hour (thanks to MMA Fighting for the quotes). "We've just got to keep the division moving. Now we're stepping into day one of the 'Pena Power' era.
"I'm the champ, I've always been the champ in my heart and in my head. It's just a matter of time before the belt's around my waist again."
Pena did say she was urged by many sitting with her to step inside the Octagon to square off with Nunes. However, her coach said to let the now-retired former champion have her moment.
Who Could Be Next For Pena?
Pena was scheduled to have a third meeting with Nunes for the title. Instead, it was Irene Aldana who stepped in and lost.
As far as Pena is concerned, the most likely opponent to stand opposite her is Raquel Pennington.
"I think I'll fight Raquel," she said. "She's done enough to deserve the title shot. She's very durable, very tough and I think that's more than likely the fight that they'll make.
"I'm anticipating that it's going to be Raquel, especially because Raquel was supposed to fight Irene. But you never know what the machine is going to do."
Still Hoping For A Third Crack At Nunes
While she is focused in on competing for the vacant title, there remains a part of Pena wanting to see Nunes return and face her again.
"Hopefully she comes back," Pena said. "That would be best-case scenario so we can squash this thing and finish this trilogy.
"It was literally going to be the greatest trilogy in women's MMA. It's never happened before and she lost that opportunity to make it happen."
Share:
Categorized: MMA Frenzy MMA Sports