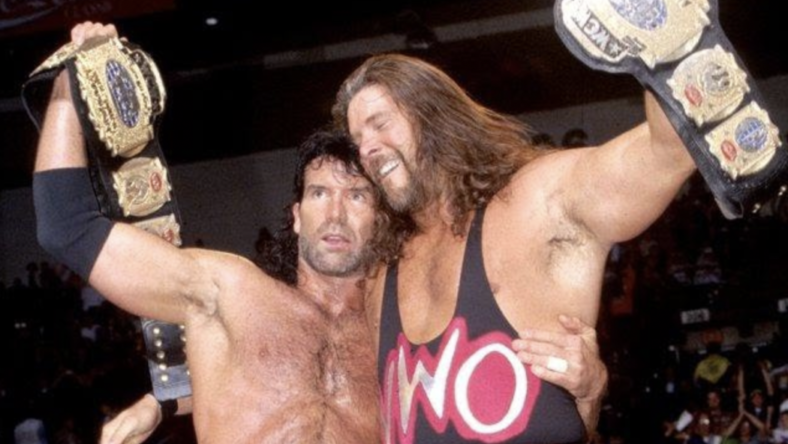 source: @oswreview, twitter, screenshot
After losing his friend earlier this year, Kevin Nash shares with us a sad Scott Hall story. Plus, Nancy Benoit's family is upset, and you can understand why.
Kevin Nash Shares Sad Scott Hall Story
If you want to witness a heart-breaker, Kevin Nash shares a sad Scott Hall story.
Quite literally, the last sad Scott Hall story.
Specifically, Kevin Nash shares this last sad Scott Hall story on an episode of the Kliq This show.
To prepare you for what you will learn…it is Kevin Nash recounting the tragic last act of Scott Hall.
In terms of how someone winds up dying, it is never good to go…but Scott Hall's passing perhaps takes on a newer and even more sad tone.
Hall, who had long battled his demons, slipped and fell at home, breaking his hip and requiring surgery.
As Nash tells us, Hall slipped in his kitchen on ice cubes that had hit the floor when he was making a drink. This is something we've all experienced.
And, in this instance, those pesky ice cubes were directly responsible for taking The Bad Guy away.
Hall slipped, broke his hip and was stuck on the floor, passing out twice from pain before managing to call 911 for help.
When he was able to get help, he was taken to a hospital that, as Nash put it, was a 2 out of 5 star facility.
It certainly sounded like Nash blamed the choice of facility on Hall's lack of insurance, but the hip required surgery, leaving Hall no choice.
Unfortunately, for one reason or another, the WWE Hall of Famer suffered a series of heart attacks which rendered him in a coma.
As we know, Hall never recovered, and passed away after being removed from life support.
For a man larger than life as a WWE Superstar, it was a truly sad ending.
Nancy Benoit Family Upset
She and her son are often overlooked when fans remember the Chris Benoit event, but now Nancy Benoit's family is upset yet again.
Following comments by IMPACT star Jordynne Grace, the feelings are understandable.
Effectively, Grace said that Chris Benoit couldn't hang with today's talents. Regardless of how you feel about the notion, in making the comments, Grace ignored Nancy.
And, once again, the family of Nancy Benoit (better known perhaps as Woman), felt ignored and forgotten.
It's weird, I didn't hear my phone ring. I really thought the work, I've been putting in for 15 yrs trying to keep & elevate my sister's legacy hadn't gone unnoticed. Guess my family is an afterthought…again.
I don't…I don't even know where to fucking start. #heartbroken https://t.co/xKsdDJlakw

— Sandra Toffoloni (@butisitfunny) July 11, 2022
Now, things didn't stay bad.
Grace did ultimately reach out to David Benoit and others, and is working with David for CTE fundraising.
Of course, it does not undo the salt in the wound, but it goes a long way toward making amends.
Still, it is a bit of a sad reminder that the world remembers Chris Benoit. Nancy Benoit and her family are often just a sad and forgotten afterthought in all of it.
Share:
Categorized: Sports Wrestle Newz Wrestling