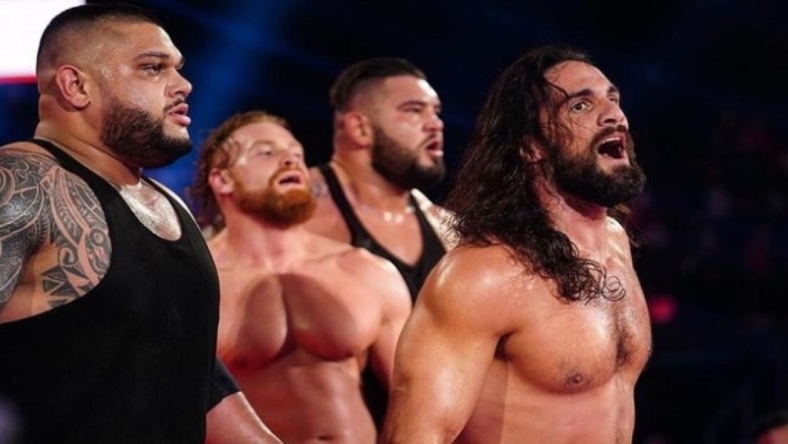 After a successful run with The Shield and his following work in the singles division in the WWE, Seth Rollins has his own wrestling faction. The wrestling stable currently includes Buddy Murphy and Austin Theory. But there might be a new addition to the wrestling faction soon.
Is The New Member A Woman?
There are many men who could join Seth's wrestling stable, but one interesting theory is that the new member could be a woman. While it is unlikely to be Becky Lynch as she went on pregnancy leave, there are plenty of other options.
One of the most prominent options might be Shayna Baszler. Vince McMahon is not taking to Baszler, so having her join The Monday Night Messiah could change his mind.
Baszler might not need a faction to shine, but Vince undoubtedly has other ideas at this point.
So, I would not rule out Shayna Baszler completely.
Another possibility is Ruby Riott, who's been kind of lost since the departure of Sarah Logan and the singles run of Liv Morgan. A run in another faction could do wonders for her.
Men Who Could Join His Faction
As Seth Rollins mentioned a person close to him might join his wrestling faction, we also have to look at the possibility that another male wrestler could join the faction. But which stars are most likely?
Mojo Rawley
A serious possibility for Seth's stable could be Mojo Rawley. Since he lost his 24/7 Championship, the superstar has done little on the main roster.
Joining Seth could be Mojo's chance to shine. God knows, he is one of the superstars that truly deserves a big opportunity.
Hopefully, joining Seth's faction could lead to bigger things for Mojo. Maybe he could have a similar journey as Drew McIntyre?
Bobby Lashley
While all signs point to Lashley being a serious contender for Drew's championship, Lashley joining Seth's stable could be serious trouble for Drew.
Adding Bobby Lashley to Seth's faction could make the stable a serious threat across all brands.
Not that the current members are to be taken lightly, but Bobby could add even more gravitas.
Kevin Owens
K.O. is currently on the injured list, but he did have a storied feud with the Monday Night Messiah. Even though he did well with his Stone Cold Steve Austin persona, K.O. might return as a heel.
Much like Bobby Lashley, adding K.O. to the faction would add loads of gravitas to the stable, making it a serious threat across the board.
It also opens up the possibility of faction members turning on one another, giving storylines for a considerable time in the future.
Ali
There is also a possibility that Seth gets a member from another roster, as the brand-to-brand invitation rules gives a little leeway there. Unless he turns out to be the mystery hacker, Ali could be a great addition to Seth's faction.
Of course, Ali is incredibly popular among the crowd, so a heel turn might not be the best option at this point.
Share:
Categorized: Ringside Intel Sports Wrestling