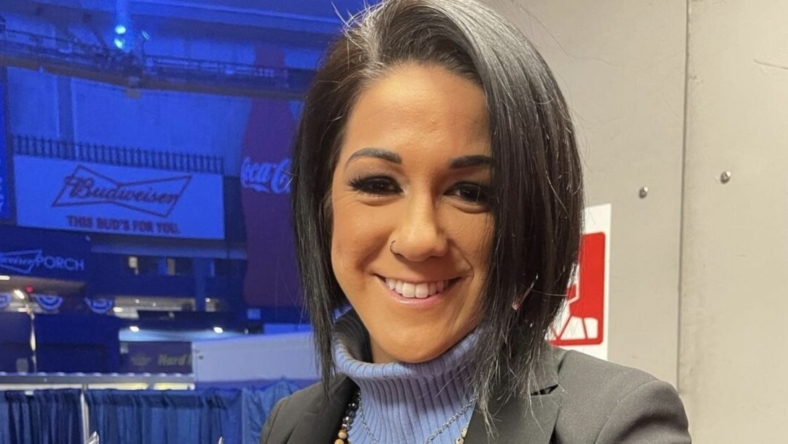 source: @justalyxcentral, twitter, screenshot
After a most unexpected couple of days, will WWE talent want out? And, is AEW star Andrade El Idolo free soon?
Will WWE Talent Want Out
The time after WrestleMania this year has been turbulent, leading us to ask: will WWE talent want out?
To recap…
WrestleMania 39 was pretty much excellent, especially night one.
The RAW after WrestleMania? One of the worst shows in months, if not longer.
What happened Monday morning is expected to have played a role in that.
WWE and Endeavor announced that the parent company of UFC was the buyer Vince McMahon so badly wanted.
Meaning, they met his asking price AND were crazy enough to keep Vince around.
In spite of reports claiming that Triple H would remain in charge, and that Vince McMahon wouldn't meddle…he meddled on RAW.
So much so that morale has reportedly cratered…leading to an interesting report from Fightful.
While no talent have yet requested their releases, some WWE talent might want out, if things continue to trend in the wrong direction.
Per the report, at least one Superstar indicating they'd ask for their release was a "top of the show" talent.
Basically, since SummerSlam last year, the morale in the back has been nothing but vastly improved.
Creative storytelling has been stellar, performances feel fresh, fans were getting a much better show.
But, since McMahon forced his way back in, that all is either in jeopardy, or but a fond memory.
Without being overly dramatic, it's possible that WWE could see many talents want out due to the poor decisions made by Vince.
Considering how re-written RAW was in the last hours before the show opened, that does not bode well.
As per PWInsider: Vince McMahon was heavily involved with last night's RAW.

Tons of re-writing and scrapped scripts before and as the show was on the air all directly from Vince.

As a result a lot of talent were unhappy.

Vince is back boys. pic.twitter.com/Im3vGOtayk

— Wrestlelamia.co.uk (@wrestlelamia) April 4, 2023

Let's hope that someone with clout (read…Endeavor) sees the backlash and tells Vince to find something new to do.
Andrade Free Soon?
Fans saw him at the Hall of Fame ceremony on Friday, but could we see him in a WWE ring again? Is Andrade El Idolo a free agent soon?
To be clear, yes, we know that Andrade was there as a guest of his wife, Charlotte Flair.
But, Andrade did have a great NXT run under Triple H…and if ever he could work with Triple H again…why not?
Of course…based on what we just talked about above…don't hold your breath.
But, with that said, Andrade spoke with Lucha Libre Online over the weekend, and his contract status came up.
And, for anyone hoping he might come back to WWE…he will be a free agent soon.
Though…how soon is always the mystery. As Fightful points out, Andrade signed with AEW in June of 2021, to a three year deal.
I am not a math major, but that wouldn't expire until June of 2024. On top of that, he's missed several months due to injury, and Tony Khan will add time to contracts…
Worth noting, of course, that perhaps Andrade isn't wanted in AEW-he has previously been sent home due to a clash with Sammy Guevara.
Still, Andrade's idea of "soon" seems to be "in a year and change". So, for now, he might be free soon…but not that soon.
And, until or unless someone fixes Vince…he might not be wanted in WWE, or may be better off staying in AEW.
Share:
Categorized: Sports Wrestle Newz Wrestling