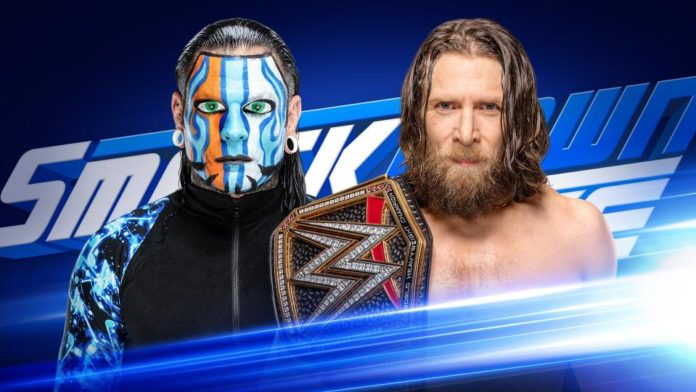 Ringside Intel brings you a recap and results for tonight's Smackdown Live (2/5/2019) broadcast. Pre-show starts at 7:50 pm EST and the main show starts at 8 pm EST. WWE Champion Daniel Bryan will square off against Jeff Hardy. Tweet and follow @RingsideIntel on Twitter.
Smackdown Live: 8 pm EST
Show opens up and Charlotte Flair comes out to the ring. She starts cutting a promo but then Becky Lynch comes out to interrupt and the two of them get in a bickering match. Finally, Triple H comes out. He reminds Becky that she's suspended and tells her to go home. The crowd boos. Triple H tells Becky all she has to do is see the doctor. Charlotte taunts Becky and Triple H tells her this doesn't concern her and to leave. Becky says she doesn't trust Triple H's intentions on good faith and H tells her she doesn't have to trust it, just get cleared or go home.
As Triple H starts to leave, Becky asks how Stephanie is, referencing her beating of H's wife last night. Triple H turns around and says he didn't see it until now… He'd bought into this whole "The Man" persona but she's really just trying to be a martyr. She's looking for a way out because she's actually not confident in her ability to win. She needs an excuse to get out of the match and blame others for it. Triple H says Becky is really just afraid. He says Becky is scared of what the doctor will say, not because she won't be medically cleared, but because she will.
Triple H says Becky is just scared that Ronda Rousey will expose her as the fraud she really is. She's afraid, says H, that on the grandest stage of them all it will be exposed that she's scared of Rousey. Becky then slaps Triple H and the crowd cheers and chants "One more time!" Triple H angrily stares into her eyes as Becky just cockily smiles back in his face before taking her leave.
"I know I was born and I know that I'll die
The in between is mine
I am mine."#SDLive @BeckyLynchWWE pic.twitter.com/yoW6kQAdhV

— WWE Universe (@WWEUniverse) February 6, 2019
***
Tag Team Match: Luke Gallows & Karl Anderson vs. Rusev & Shinsuke Nakamura
Rusev secures victory for his team with a Machka Kick to Anderson.
Winners: Rusev & Shinsuke Nakamura
It may have been a "one time only" pairing, but it was a successful one as @RusevBUL & @ShinsukeN get the victory over @KarlAndersonWWE & @LukeGallowsWWE! #SDLive @LanaWWE pic.twitter.com/vn0TzfTr1T

— WWE (@WWE) February 6, 2019
***
Singles Match: Randy Orton vs. Mustafa Ali
Orton ultimately dispatches Ali with an RKO after a back and forth battle.
Winner: Randy Orton
Just when you think you have #TheViper cornered, he strikes back. @RandyOrton defeats @MustafaAliWWE on #SDLive. pic.twitter.com/ZwU2Lpb9qs

— WWE (@WWE) February 6, 2019
After the match, Samoa Joe ambushes Orton and chokes him out with the Coquina Clutch.
***
WWE Champion Daniel Bryan comes out to the ring with Erick Rowan. He is wearing his new eco-friendly title belt on his shoulder. The crowd is fully behind Bryan, even though he's a heel right now, and Bryan acknowledges that they understand what he's trying to accomplish. This crowd is smart, Bryan says, but unfortunately he has to talk to a global audience that doesn't always understand. Bryan says his new title is a symbol for change, but lots of people are resistant to change.
"This title is not only a symbol of excellence, this title is a symbol for CHANGE!" – @WWEDanielBryan #SDLive pic.twitter.com/MnP68SnLLe

— WWE Universe (@WWEUniverse) February 6, 2019
Rowan says that people fear them for their views and they will try to silence them. Bryan says the suits in the back never wanted him to be champion and now they've stacked the deck against him at Elimination Chamber, by making him defend his title in the Chamber itself. He says the other contenders in the match want to take the belt backwards – back to its excessive leather strap and so on. Bryan says the whole world needs him to remain champion for the sake of progress.
"The planet NEEDS The New @WWEDanielBryan as @WWE Champion!"

The #PlanetsChampion has spoken. #SDLive @ERICKROWAN pic.twitter.com/y7yKgfQHUt

— WWE (@WWE) February 6, 2019
***
Tag Team Match: The IIconics vs. Mandy Rose & Sonya Deville
Mandy Rose hits Naomi with her finish and gets the pinfall for her team.
Winners: Mandy Rose & Sonya Deville
"Your kids kids will be talking about tonight!" – @WWEGraves#FireAndDesire @WWE_MandyRose & @SonyaDevilleWWE pick up some 🔥 momentum heading into #WWEChamber! #SDLive pic.twitter.com/NTJF3HXxni

— WWE (@WWE) February 6, 2019
***
Singles Match: WWE Champion Daniel Bryan (with Erick Rowan) vs. Jeff Hardy
Jeff Hardy is about to get the victory after a Twist of Fate, but Rowan pulls him off of Bryan and causes a disqualification.
Winner: Jeff Hardy (DQ)
After the match, all the contenders is the Elimination Chamber title match come out to the ring and a brawl ensues. Bryan retreats up the aisle with his belt and AJ Styles points at him and eyes him down from the ring, as the others lay strewn around the ring in various states of disrepair.
Just THINK about the carnage we're going to see in less than two weeks at #WWEChamber!#SDLive @WWEDanielBryan @AJStylesOrg @RandyOrton @SamoaJoe @MustafaAliWWE @RandyOrton pic.twitter.com/O4040vLfzh

— WWE (@WWE) February 6, 2019
Your Thoughts
Sign Up for a daily briefing from your #1 source for wrestling intel