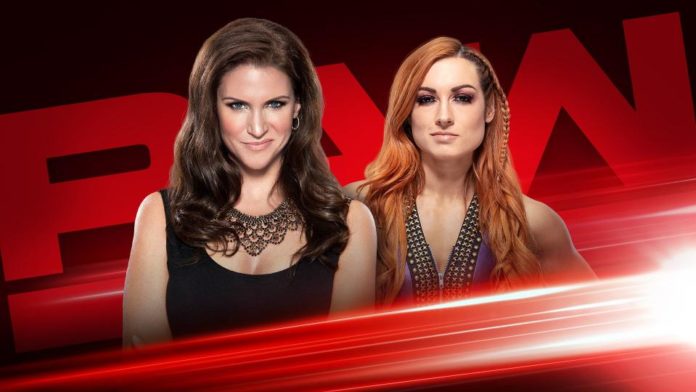 Ringside Intel brings you a recap and results for tonight's WWE Monday Night Raw (2/4/2019) broadcast. Pre-show starts at 7:50 pm EST and the main show at 8 pm EST. Stephanie McMahon invites 'The Man' Becky Lynch to the show. Tweet and follow @RingsideIntel on Twitter.
Monday Night Raw: 8 pm EST
Stephanie McMahon is in the ring and she starts introducing the evening, but Becky Lynch's music interrupts and The Man limps her way down to the ring. Stephanie notes how Becky has been limping and says she will need to be cleared by medical staff. Becky refuses and accuses Stephanie of trying to sabotage the match but Stephanie assures her that she wants to see Becky beat Ronda Rousey, especially considering Stephanie's own history with the champion.
Becky still refuses and Stephanie says then she will have to suspend her and not let her compete at WrestleMania. So Becky ends up attacking Steph and puts a little beating on her, sending Steph into retreat up the aisle as the crowd chants Becky's name.
Not going to let #TheMan compete without being medically cleared?@BeckyLynchWWE doesn't like the sound of that. #RAW pic.twitter.com/CsgyktMvNC

— WWE Universe (@WWEUniverse) February 5, 2019
#TheMan @BeckyLynchWWE has just been SUSPENDED by @StephMcMahon for refusing to seek medical attention…and all HELL has broken loose! #RAW pic.twitter.com/E3dzHZXMcL

— WWE (@WWE) February 5, 2019
***
Backstage, Raw Women's Champion Rousey confronts Becky, who has been suspended indefinitely about her actions against Steph and says they were unprofessional and has jeopardized their WrestleMania match.
Guess who's not happy to see @BeckyLynchWWE…

The #RAW #WomensChampion @RondaRousey. pic.twitter.com/g3fM99FvRT

— WWE Universe (@WWEUniverse) February 5, 2019
***
Singles Match: Ronda Rousey vs. Liv Morgan
Rousey picks up the win in short order with an Armbar.
Winner: Ronda Rousey
After the match, Rousey calls out the rest of the Riott Squad and Sarah Logan answers the challenge.
Apparently beating @YaOnlyLivvOnce wasn't enough…@RondaRousey is now squaring off with The #RiottSquad's @sarahloganwwe LIVE on #RAW! pic.twitter.com/PJHSfBBWwN

— WWE (@WWE) February 5, 2019
Singles Match: Ronda Rousey vs. Sarah Logan
Rousey dispatches Logan quickly with an Armbar as well.
Winner: Ronda Rousey
Make that 2️⃣-for-2️⃣ for #RAW #WomensChampion @RondaRousey as she makes @sarahloganwwe tap out in a HURRY! pic.twitter.com/06j4nYg2de

— WWE (@WWE) February 5, 2019
***
Four Corners Tag Team Match: Heavy Machinery vs. Lucha House Party vs. The B-Team vs. The Revival
The winning team gets a Raw Tag Team Title shot. The Revival picks up the win and will face champs Chad Gable & Bobby Roode down the road.
Winners: The Revival
ONE MORE TIME.#TheRevival @ScottDawsonWWE & @DashWilderWWE have earned another opportunity at @REALBobbyRoode & @WWEGable's #RAW #TagTeamTitles! pic.twitter.com/LA9eEFxxRn

— WWE (@WWE) February 5, 2019
***
Zack Ryder gives his tag partner Curt Hawkins a pep talk and says together they will overcome the respective low-points they are currently experiencing in their careers.
"We're losers?" – @TheCurtHawkins

"Exactly…but not for long." – @ZackRyder#RAW pic.twitter.com/OSO9sNnqji

— WWE Universe (@WWEUniverse) February 5, 2019
***
Kurt Angle comes out to address his future in WWE, after suffering some extreme setbacks as of late. Baron Corbin and Drew McIntyre interrupt and McIntyre says it's time someone finished Angle for good because he doesn't seem to be getting the hint. Corbin and McIntyre stomp to the ring but then Braun Strowman comes out to Angle's aid. Strowman ends up driving Corbin and McIntyre into retreat.
BUSINESS JUST PICKED UP.@RealKurtAngle has some MONSTER-SIZED backup in the form of @BraunStrowman on #RAW! pic.twitter.com/goLIiS6zW0

— WWE (@WWE) February 5, 2019
***
Sasha Banks and Bayley come out for their Elimination Chamber qualifying match but they are ambushed by their opponents, Alicia Fox & Nikki Cross, on the main stage.
WHAT JUST HAPPENED?!@AliciaFoxy & @NikkiCrossWWE just got a major head start on @SashaBanksWWE & @itsBayleyWWE! Are we even going to be able to have this qualifying match for the @WWE #WomensTagTitles Elimination Chamber Match? pic.twitter.com/GXtp24NxzU

— WWE (@WWE) February 5, 2019
Elimination Chamber Qualifying Tag Team Match: Sasha Banks & Bayley vs. Alicia Fox & Nikki Cross
Banks and Bayley secure the victory and qualify for the Chamber match.
Winners: Sasha Banks & Bayley
The #WWEChamber field so far…

🔴 @SashaBanksWWE & @itsBayleyWWE
🔴 @YaOnlyLivvOnce & @sarahloganwwe
🔴 @NiaJaxWWE & @TaminaSnuka
🔵 @BillieKayWWE & @PeytonRoyceWWE
🔵 @WWE_MandyRose & @SonyaDevilleWWE#WomensTag pic.twitter.com/ggY6nWueo3

— WWE (@WWE) February 5, 2019
***
Road Dogg comes out, old and out-of-shape as he is, and starts embarrassingly doing his D-O-G-G shtick. He ends up introducing Jeff Jarrett for a match against Elias. But before that gets underway, they finish their song from last week "My Baby Tonight". Elias comes out and puts a stop to these shenanigans. Elias talks trash at both of the WWE legends in the ring and insults the crowd. Jarrett references Razor Ramon and says to Elias, "Don't sing it, bring it!" And the match gets started.
#WithMyBabyTonight? Nah, not tonight.

It's @IAmEliasWWE's night. #RAW pic.twitter.com/MSualrNUPh

— WWE (@WWE) February 5, 2019
Singles Match: Elias vs. Jeff Jarrett
Elias pulls out the win after a back and forth match.
Winner: Elias
Road Dogg ends up getting involved after the match and hits a "Suck It" sign as Jarrett breaks a guitar over Elias' back.
Or maybe it doesn't…@RealJeffJarrett & @WWERoadDogg just played a different kind of tune across the BACK of @IAmEliasWWE on #RAW! pic.twitter.com/x1fAzrSAdb

— WWE (@WWE) February 5, 2019
***
Finn Balor comes out for what he thinks will be a title match for Bobby Lashley's Intercontinental Championship. However, he finds out that he will be facing Lashley's mouthpiece Lio Rush instead and will have to earn his shot.
Singles Match: Finn Balor vs. Lio Rush
Rush attacks Balor before the match gets started to gain an early advantage. Balor makes the comeback and picks up the win.
Winner: Finn Balor
Painful, but still TOO SWEET…@FinnBalor picks up the win over @ItsLioRush! Did he just earn himself an #ICTitle match against @fightbobby? #RAW pic.twitter.com/HTnzyZfVYe

— WWE (@WWE) February 5, 2019
***
Alexa Bliss comes out for an edition of Moment of Bliss. Her guest tonight is WWE newcomer, EC3. Before it can get started, Nia Jax comes out with Tamina to interrupt. Jax starts cutting a promo but then Dean Ambrose comes out to interrupt the interruption. He starts grilling EC3 and making fun of him. EC3 slugs Ambrose with a shot to the face and then heads to the ring to have a match with him.
ENOUGH TALK from @TheDeanAmbrose!@therealec3 is heading to the ring on #RAW… pic.twitter.com/3JqRlojkiF

— WWE (@WWE) February 5, 2019
Singles Match: EC3 vs. Dean Ambrose
EC3 pulls out the win in his first-ever match on the WWE main show.
Winner: EC3
In his FIRST MATCH on #RAW, @therealec3 just picked up a VICTORY over former @WWE Champion @TheDeanAmbrose! pic.twitter.com/BHeILuuagN

— WWE (@WWE) February 5, 2019
***
Mojo Rawley talks trash at himself in the mirror again and tells himself that he's no longer going to be a team player and that it's all about him.
.@MojoRawleyWWE isn't interested in the team. Not at all. #Raw pic.twitter.com/KnlWYpJ9O8

— WWE (@WWE) February 5, 2019
***
Tag Team Match: Drew McIntyre & Baron Corbin vs. Braun Strowman & Kurt Angle
Corbin & McIntyre take control early as they isolate Angle in their corner and keep him away from his partner, Strowman, as they deliver their assault. McIntyre hits Angle with his own Angle Slam and then slaps on his own Ankle Lock as well, recreating the humiliation Angle had already suffered weeks ago at the hands of the Scottish Psychopath. Finally Angle escapes and tags Strowman, who comes in hot. Strowman batters both McIntyre and Corbin. Suddenly, Corbin and McIntyre manage to throw Strowman to the outside and regain control.
Corbin delivers a beating to Strowman at ringside. Back in the ring and McIntyre and Corbin go for a team-suplex on Strowman but Strowman reverses and double-suplexes them. Strowman tags Angle and Angle delivers a beating to his foes. Angle's momentum starts to fade and Strowman comes to his rescue. The ref warns Strowman that if he attacks Corbin he'll be disqualified. Strowman defies this warning and attacks Corbin anyways, resulting in the forewarned DQ.
Winners: Drew McIntyre & Baron Corbin
After the match. McIntyre and Corbin gang up on Strowman but ultimately Strowman hits them both with Chokeslams on the steel steps. Angle and Strowman stand tall in the ring as the show closes.
PAYBACK TONIGHT for @BraunStrowman and @RealKurtAngle…

They may have gotten disqualified, but they stand TALL over @BaronCorbinWWE & @DMcIntyreWWE to close out #RAW! pic.twitter.com/l2EN6YqS2T

— WWE (@WWE) February 5, 2019
Your Thoughts
Sign Up for a daily briefing from your #1 source for wrestling intel