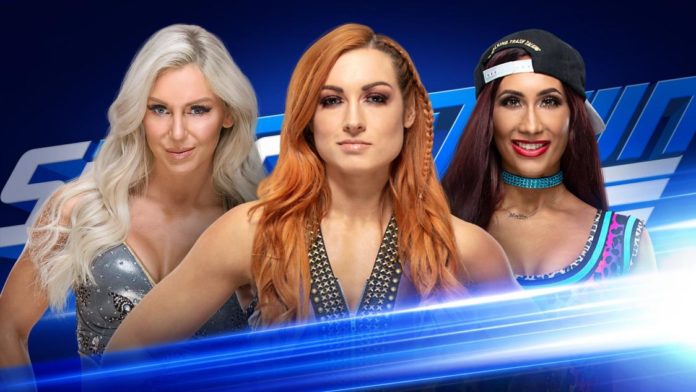 Ringside Intel brings you play-by-play and results for tonight's Smackdown Live (01/08/2018) broadcast. Pre-show starts at 7:50 pm EST and the main show starts at 8 pm EST.  Becky Lynch, Charlotte Flair and Carmella compete to see who will face Asuka for the Smackdown Women's Championship at Royal Rumble. Tweet and follow @RingsideIntel on Twitter.
Smackdown Live: 8 pm EST
Show opens up and WWE Champion Daniel Bryan chastises the WWE Universe for how unhealthy they all are. R-Truth then ambushes Bryan before their match can get underway. It cuts to commercial with Truth battering Bryan as officials try to restore order.
.@WWEDanielBryan starts off #SDLive with taking the @WWEUniverse on an educational journey… pic.twitter.com/yAlUA2zxbZ

— WWE (@WWE) January 9, 2019
It's not Christmas, but #TruthyClaus is comin' to town… and he remembers EVERYTHING! #SDLive @WWEDanielBryan @RonKillings pic.twitter.com/1uhXusV5VZ

— WWE (@WWE) January 9, 2019
Singles Match: WWE Champion Daniel Bryan vs. R-Truth
Truth has the crowd behind him as he takes it to Bryan but Bryan capitalizes on a mistake and levels Truth with a Running Knee for the victory.
Winner: WWE Champion Daniel Bryan
The NEW @WWEDanielBryan is the WINNER of this match as the #WWEChampion gets the better of @RonKillings! #SDLive pic.twitter.com/aCKBm4knmE

— WWE (@WWE) January 9, 2019
After the match, AJ Styles attacks Bryan on the main stage. Officials run out and separate them and Styles raises his arms as the crowd cheers for him.
.@AJStylesOrg didn't feel like waiting until #RoyalRumble to get his hands on @WWEDanielBryan. #SDLive pic.twitter.com/6ZTqkc3DMC

— WWE (@WWE) January 9, 2019
***
Tag Team Match: Rey Mysterio & Mustafa Ali vs. Samoa Joe & Andrade "Cien" Almas
The match goes back and forth but ultimately Almas secures victory for his team by reversing a 619 to hit a Double-Arm DDT for the win.
Winners: Samoa Joe & Andrade "Cien" Almas
ALMAS PINS MYSTERIO.

Take that in because @AndradeCienWWE & @SamoaJoe just defeated @ReyMysterio & @MustafaAliWWE on #SDLive! @Zelina_VegaWWE pic.twitter.com/lhbr0OMZnr

— WWE (@WWE) January 9, 2019
***
The Miz tries to talk his tag team partner Shane McMahon into using his power to jump them to the head of the tag title picture. Shane says he won't do that, but he is excited to team up with Miz.
.@mikethemiz & @ShaneMcMahon are on the same page when it comes to the ring, but not when it comes to fashion…

White leather: Yes or No, Shane-O-Mac? #SDLive pic.twitter.com/hzgB6FjGky

— WWE (@WWE) January 9, 2019
***
United States Champion Rusev comes out to cut a promo about how Shinsuke Nakamura injured his wife last week. He says Nakamura can mess with him all he wants, but messing with his wife crosses the line. He calls Nakamura out to the ring to face him. Nakamura comes on the big screen and tells Rusev the whole thing wasn't his fault, it was Rusev's. He shows a replay from last week showing Lana jumping on his back and Rusev superkicking him at that exact moment, causing Nakamura to fall backward on top of her.
Nak says it was Rusev who crushed Lana. Rusev charges out of the ring toward the backstage area in search of Nakamura. Nak ends up ambushing him and laying him out on the backstage floor with a Kinshasa.
"@RusevBUL, YOU crushed @LanaWWE!" – @ShinsukeN #SDLive pic.twitter.com/Qzg9JxcXId

— WWE (@WWE) January 9, 2019
***
Tag Team Match: Tag Champs The Bar vs. The Usos
If The Usos win they will earn a future tag title opportunity. As The Usos are nearing victory, Mandy Rose comes out and starts talking to Jimmy Uso. She asks hi if she left her things in his hotel room insinuating they had some kind of tryst. Jimmy looks confused and Cesaro capitalizes and hits the finish.
Winners: Tag Champs The Bar
Everything okay, @WWE_MandyRose? #SDLive pic.twitter.com/lFE3yYqhCU

— WWE Universe (@WWEUniverse) January 9, 2019
After the match, The Miz comes out to the ring and gives it up for the champs. Miz says he and Shane McMahon congratulate The Bar on being so dominant in the tag team division. They've beaten everyone… except Miz and Shane. Miz offers The Bar a chance to compete against them at Royal Rumble. Cesaro thinks about it, and then Sheamus gives Miz a Brogue Kick. Then Cesaro says, "We accept."
"We accept." @WWESheamus & @WWECesaro accept @mikethemiz's challenge for an #SDLive #TagTeamTitles match at #RoyalRumble. pic.twitter.com/LvWtUzaHBX

— WWE (@WWE) January 9, 2019
***
No. 1 Contenders Match: Becky Lynch vs. Charlotte Flair vs. Carmella
Match gets underway and Becky takes control early as it cuts to commercial.
Back again and Becky takes it to Carmella but then Charlotte nails her with a shot. Charlotte goes to the top rope but Becky throws her off on top of Mella. Becky and Charlotte end up face-to-face in the ring as the rage in their eyes boils over and they start belting each other with chops. There is a scramble and Carmella wraps Charlotte up in the Code Of Silence. Charlotte escapes and gains control. Becky leaps off the top rope and Charlotte moves, sending Becky colliding into Mella.
Charlotte levels Becky with a shot and now The Queen lays both of her opponents in front of the turnbuckle. Charlotte climbs to the top rope and hits a moonsault down onto both of them. She pins each other them and only manages to get a 2-count for each. Commercial break.
Back again and Carmella hits Charlotte with a hurricanrana off the top for 2. Then Mella hits Becky with a suicide dive out on the floor. Charlotte misses a moonsault out onto the floor and then Becky hits Carmella with a Becksploder. Back in the ring and Becky goes for a Disarm Her on Mella but Charlotte hits a Natural Selection off the top. Mella nails Charlotte with a superkick and pins for a near-fall. Mella angrily slaps Charlotte around but then gets puts in the Figure-8.
Becky lands a legdrop off the top rope and slaps the Disarm Her on Charlotte. Mella hits Becky with a superkick and then throws Charlotte out of the ring. The crowd chants, "This is awesome!" After a scramble, Becky sinks in a Disarm Her on Carmella and forces her to tap out. Becky will face Asuka for the Smackdown Women's Championship at Royal Rumble.
Winner: Becky Lynch
#TheMan @BeckyLynchWWE is VICTORIOUS in this #TripleThreat Match, and she'll come around for the #SDLive #WomensTitle at #RoyalRumble! pic.twitter.com/77CIgofbCx

— WWE (@WWE) January 9, 2019
After the match, Asuka comes out to face her upcoming challenger and the two talk trash at each other.
Oh, IT'S ON! #SDLive #RoyalRumble @BeckyLynchWWE @WWEAsuka pic.twitter.com/Q6TK1gefeD

— WWE (@WWE) January 9, 2019
Your Thoughts
Sign Up for a daily briefing from your #1 source for wrestling intel