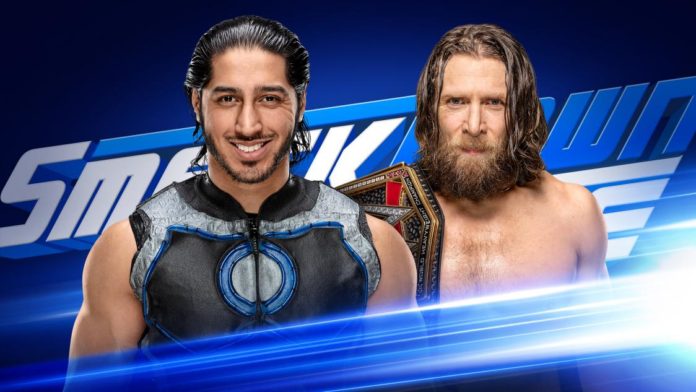 Ringside Intel brings you play-by-play and results for tonight's Smackdown Live (12/11/2018) broadcast. Pre-show starts at 7:50 pm EST and the main show starts at 8 pm EST. WWE Champion Daniel Bryan takes on 205 Live's Mustafa Ali for some reason. Tweet and follow @RingsideIntel on Twitter.
Smackdown Live: 8 pm EST
WWE Champ Daniel Bryan comes out to the ring and starts cutting a promo. He tells the fans they're all parasites who are destroying the earth. Some in the crowd chant "Daniel sucks". Bryan says the fans latched onto the old Daniel Bryan, but the old Daniel Bryan is dead. The "Yes" movement is dead. And like the fickle fans they are, they've already moved on. They support AJ Styles now. But Bryan is the champ, not Styles. And at TLC, the champion will remain the new Daniel Bryan.
Then Mustafa Ali comes out. Ali asks Bryan what happened to him. He says Bryan used to inspire him. He says Bryan was that underdog who inspired people because he had heart and stood up against the odds. What happened to that? Ali tells Bryan that he wants a fight. The crowd chants "fight" as Ali waits for Bryan's response. Bryan then asks what kind of car Ali drives. Ali says he doesn't know what that has to do with anything, but he drives an SUV.
Bryan says that Ali is a small little man… why would he drive an SUV? Ali tries to explain that he has a family but Bryan slaps him a couple times and calls him ignorant. Ali fires back and the two start to scrap. Ali clears Bryan out of the ring as it cuts to commercial.
Do you drive an SUV? If so, #WWEChampion @WWEDanielBryan thinks you're IGNORANT! #SDLive @MustafaAliWWE pic.twitter.com/B8wB9tKv2F

— WWE (@WWE) December 12, 2018
Singles Match: WWE Champion Daniel Bryan vs. Mustafa Ali
Bryan ends up tapping Ali out with a Heel Hook.
Winner: WWE Champion Daniel Bryan
Despite a valiant effort from #TheHeartAndSoulOf205Live @MustafaAliWWE, @WWEDanielBryan stands tall tonight on #SDLive. pic.twitter.com/UHgVlqgmpO

— WWE (@WWE) December 12, 2018
After the match, Bryan beats and batters Ali on the main stage and leaves him laid out with officials tending to him.
***
Tag Team Champions The Bar come out for a rap battle against The New Day.
#TheBar's #IceIceSheamy > @VanillaIce's #IceIceBaby

It had to be said. #RapBattle #SDLive @WWESheamus @WWECesaro pic.twitter.com/w9k65mNxty

— WWE (@WWE) December 12, 2018
***
The Miz calls for his "partner" Shane McMahon to come out. Then a couple jobbers come out for an impromptu tag team match.
A referee… opponents… AND a flurry of offense?

This must be an impromptu matchup for the "team" of @shanemcmahon and @mikethemiz! #SDLive pic.twitter.com/L6GA52HQ1t

— WWE (@WWE) December 12, 2018
Tag Team Match: The Miz & Shane McMahon vs. Jobbers
Shane locks a triangle choke on one of the jobbers and force him to tap out in short order.
Winners: The Miz & Shane McMahon
What a win. What a… team?@shanemcmahon's instincts kicked in to secure the victory! #SDLive @mikethemiz pic.twitter.com/U9lbHv7Khp

— WWE Universe (@WWEUniverse) December 12, 2018
***
Randy Orton comes out to cut a promo on Rey Mysterio ahead of their Chairs Match this Sunday. Mysterio attacks Orton from behind midway through the promo and starts beating him down with chair shots. Mysterio delivers a 619 and Orton staggers out of the ring and up the aisle toward the back. Mysterio stands triumphantly in the ring.
R… K… OUCH!@reymysterio #SDLive pic.twitter.com/XuHfAt0BY5

— WWE (@WWE) December 12, 2018
***
Smackdown Women's Champion Becky Lynch cuts a promo backstage about her upcoming match against Charlotte Flair at TLC.
The odds aren't in @BeckyLynchWWE's favor this Sunday at #WWETLC.

And #TheMan LOVES IT. #SDLive pic.twitter.com/pmnoEn3PHb

— WWE (@WWE) December 12, 2018
***
Tag Team Match: Jeff Hardy & Rusev vs. US Champion Shinsuke Nakamura & Samoa Joe
Nakamura ends up going for a Kinshasa but gets countered by Rusev's Machka Kick for the pinfall.
Winners: Jeff Hardy & Rusev
WHAT A WIN for the team of @RusevBUL and @JEFFHARDYBRAND! @LanaWWE #SDLive pic.twitter.com/xruxbJ4jpY

— WWE (@WWE) December 12, 2018
***
Singles Match: Charlotte Flair vs. Asuka
Smackdown Women's Champion Becky Lynch joins the broadcast table to watch the match. Bell sounds and they engage. Asuka has success early and she plants Charlotte with a belly-to-back suplex. Charlotte fires back and levels Asuka with a big shot. Charlotte goes for a moonsault but Asuka counters with an Asuka Lock. Charlotte manages to get to the ropes to break the hold. Commercial break.
Classic Queen.
Classic Empress.@MsCharlotteWWE @WWEAsuka #SDLive pic.twitter.com/rUopikyBsD

— WWE (@WWE) December 12, 2018
Back again and Asuka has Charlotte in a submission hold. Charlotte counters and they jockey for position until Asuka finds more submission holds. Charlotte finally hits a sitout powerbomb for a near-fall. Then Charlotte slaps on a Figure-4 Leg-Lock. Asuka eventually turns it over and reverses the pressure until they roll into the ropes and the hold is broken. Charlotte drags Asuka back into the center of the ring and applies another leg submission.
Charlotte works on Asuka's legs with a series of attacks. Asuka turns the tables and hits Charlotte with a Codebreaker for a 2-count. Charlotte ends up going for another moonsault but Asuka gets her knees up. Charlotte quickly transitions for a Figure-4 but Asuka transitions for an Asuka Lock. They scramble to the outside, but then Charlotte grabs a kendo stick from under the ring and starts cracking Asuka with it. The match is disqualified.
Winner: Asuka (DQ)
After the match, Becky, Asuka and Charlotte brawl at ringside and beat each other up with the kendo stick. They will meet in Triple Threat action this Sunday at TLC.
Give @WWEAsuka a kendo stick, and you shall receive PAIN!!! #SDLive pic.twitter.com/wTPMMbuSMi

— WWE (@WWE) December 12, 2018
Your Thoughts
Sign Up for a daily briefing from your #1 source for wrestling intel