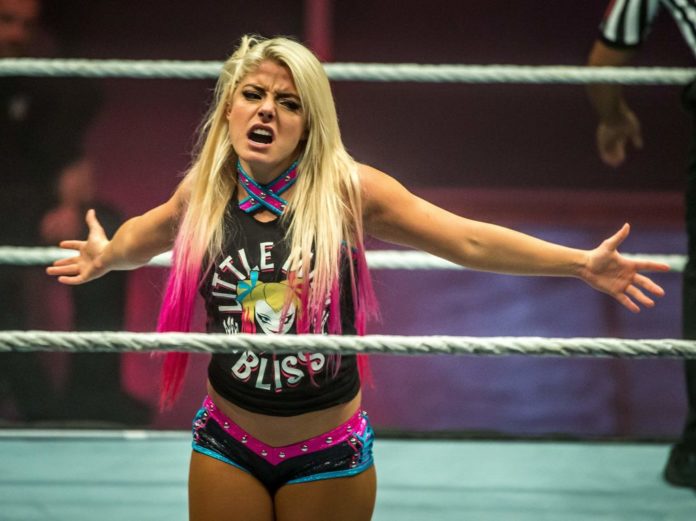 Alexa Bliss is out of the Mixed Match Challenge and other activities for the time being. The Goddess of WWE is experiencing injuries that WWE is attributing to an armbar from Ronda Rousey but are a great deal more severe and chronic than that. Here's what Dave Meltzer had to say about it:
"Bliss is suffering from numbness in her left arm…right now the only word is that she is cleared for minimal exertion, so will be able to do some things. Unless things change, she won't be wrestling this coming weekend but minimal exertion means that it is possible she could manage on shows."
Bliss managed stablemates Alicia Fox and Mickey James in their tag match against a returning Nia Jax and the woman who replaced Bliss in the Mixed Match Challenge, Ember Moon.
Nerve issues are common among wrestlers. The constant falling on the neck can lead to compressed vertebrae. These compressions can press down on nerves and cause numbness and loss of strength and grip. Daniel Bryan, Sheamus, and Sasha Banks have all dealt with that. Neck issues always led to Paige's retirement and almost paralyzed Tyson Kidd.
What's Next For Bliss?
If Bliss isn't able to wrestle again, she is still valuable to WWE. As mentioned by Meltzer, Bliss could manage. She is one of the best talkers of either gender on the roster. Even if she can't go in the ring, she still can kill people on the mic. Expect to see Bliss continuing to cut promos on the rest of the RAW women's roster until she is healed up.
We will keep you updated on what's next for Bliss. But for now, it looks like the Five Feet Of Fury will be on the sidelines.
In the meantime, attributing Bliss' injury to Ronda Rousey is a great way to further Rousey as a dominant champion. 
Your Thoughts
Sign Up for a daily briefing from your #1 source for wrestling intel