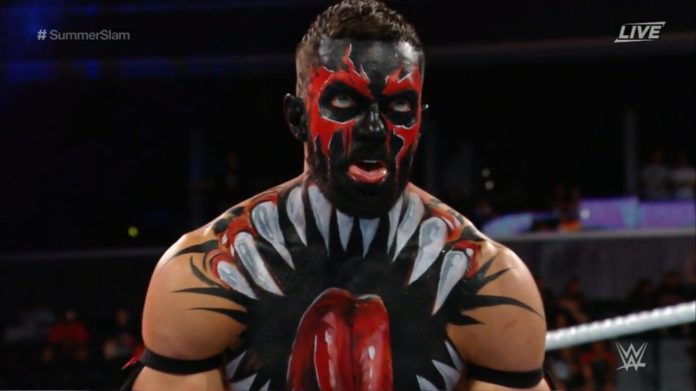 Two years ago, Finn Balor shocked the world and won the Universial Title. And he did it in a mix of black and red paint with garish imaging and gnashing teeth. The Demon. The demon returned one year later (in the story featured below) when he faced off against Bray Wyatt. But there was no indication that Balor would bring the demon to 2018's Biggest Part of the Summer to face Baron Corbin. Thankfully, we were all in for a surprise.
The Demon King is here #SummerSlam pic.twitter.com/poelSRcVWT

— WrestleNewz.com (@wrestlenewz) August 20, 2018
The Darth Maul cameo in Solo was unexpected. #SummerSlam pic.twitter.com/JaGK6ESada

— Pro Wrestling Sheet (@WrestlingSheet) August 20, 2018
The demon wasted no time and dispatched Constable Corbin with ease, winning in a squash.
AND IT'S OVER! Demon @FinnBalor shook @BaronCorbinWWE into submission and ENDED IT within seconds! #SummerSlam pic.twitter.com/hflclJAMzR

— WWE UK (@WWEUK) August 20, 2018
SLO MO… @FinnBalor COUP DES GRACE! #SummerSlam pic.twitter.com/XHHe8rILvo

— Brian The Guppie (@briantheguppie) August 20, 2018
Check out our story on Finn's Summerslam 2017 'Demon' below
---
SummerSlam has been up and down. But a certain "up" moment was dark, brooding, bloody, and ASTOUNDING. Finn Balor only recently returned from injury but has not turned into his "Demon" yet. No one had brought it out of him. That changed when Bray Wyatt doused him in a dangerous red acid after their match on Monday Night Raw.
For their match at SummerSlam, Finn's Demon returned. It was BLOODY brilliant.
Watch it here.
#TheDemon. Is. BACK! #SummerSlam @FinnBalor pic.twitter.com/VKN4wQLzi1

— WWE (@WWE) August 21, 2017
Finn Balor's demon character/entrance is something special that only comes out a few times a year. It truly is one of the unique parts of the current WWE product.
Share your thoughts on Balor's entrance in the comments below.
Your Thoughts
Sign Up for a daily briefing from your #1 source for wrestling intel