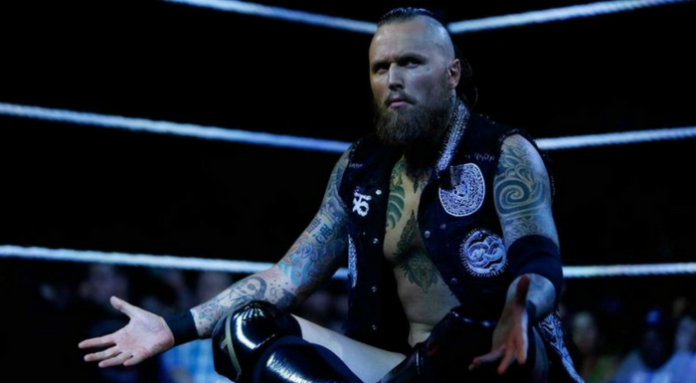 It's official: Aleister Black went under the knife for a groin injury and could very well miss NXT TakeOver: Brooklyn 4 later this month.
According to the Wrestling Observer, Black sustained a groin injury when he was "crotched" by new NXT Champion Tommaso Ciampa at an NXT house show in Las Vegas on July 28th. Black subsequently underwent surgery to repair a groin tear – an injury that Pro Wrestling Sheet reports typically takes "three weeks or longer" to heal. NXT TakeOver: Brooklyn 4 takes place August 18th, so Black could ostensibly participate depending on the severity of his injury. However, groin injuries are also extremely easy to re-aggravate if not given proper time to heal, so Black might not want to take any chances.
In any case, I wouldn't bet on Black wrestling in Brooklyn. But that's not necessarily a bad thing.
What Does This Mean For NXT: TakeOver Brooklyn 4?
As it stands, Ciampa is supposed to defend the NXT Championship in a triple-threat match against Black and Johnny Gargano in Brooklyn. However, with Black more than likely out of the match, it seems we'll get Ciampa vs. Gargano III – along with a whole lot of setup for future feuds.
As unfortunate as Black's injury is, it plays perfectly into both the narrative of this feud and Ciampa's character. Ciampa is a no-good champion who would do anything to win, and Black's injury will only make him more hated among fans. Furthermore, as we saw with Ciampa vs. Gargano, there are tons of ways to keep a feud alive while someone is legitimately injured; and Black's time on the shelf will arguably make his inevitable showdown with Ciampa all the more personal.
However, Black doesn't need to go after Ciampa right away. After all, it's technically Gargano's interference that caused Black to lose the NXT Championship, so Black could feasibly return the favor in Brooklyn.
The point is, while Black's participation in the triple-threat is in jeopardy, the potential for the match/feud isn't. There are still a ton of intriguing ways this could go, and we wish Black a speedy recovery.
Your Thoughts
Sign Up for a daily briefing from your #1 source for wrestling intel