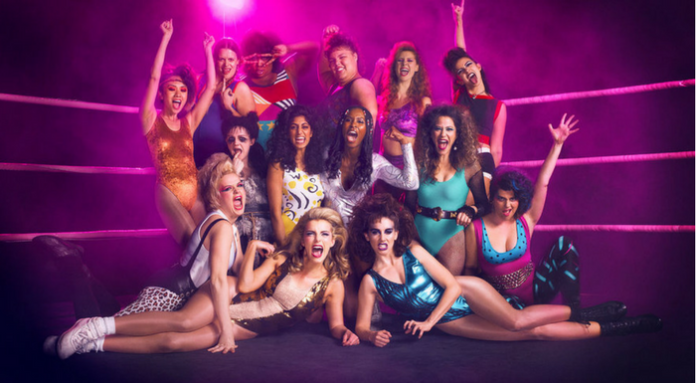 Besides WWE, there isn't a better mainstream representation of women's wrestling than the Netflix series GLOW. Loosely based on the 80s wrestling promotion of the same name, GLOW chronicles the struggles of an all women's wrestling organization in a time when women's wrestling was considered a vile joke.
The ladies of GLOW have had a few interactions with WWE. Former WWE star Chavo Guererro helped train the actresses. And the women of GLOW took on the women OF WWE in a rap battle earlier this month. It isn't ending there. It seems like GLOW star Alison Brie and other members of the cast are coming to SmackDown!
And of course, they're going to team up with Naomi to help her FEEL THE GLOW!
More via WWE.com
The WWE Universe got a surprise on Monday night when members from the cast of Netflix's "GLOW" revealed they'll be stopping by SmackDown LIVE tonight.

Britt Baron, who plays Justine on the hit comedy show, which has its second season premiere on Friday, made the announcement in a Twitter post, mentioning that they have their eye on Naomi
Baron plays Justine, a hardcore punk and nerd who joins the rag-tag group of lady wrestlers!
@GlowNetflix coming for you WWE Smack Down!! Live TOMORROW! @wwe @naomiwwe #WWE #SDLive #glownetflix pic.twitter.com/WmG0I9j2Ft

— Britt Baron (@brittbaron) June 25, 2018
Your Thoughts
Sign Up for a daily briefing from your #1 source for wrestling intel