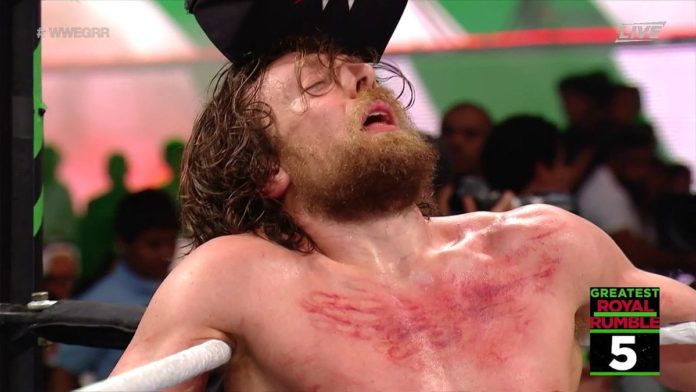 The Greatest Royal Rumble sure was something. Titus O'Neil had the greatest trip in WWE history, the writers almost caused an international incident, and Daniel Bryan set a Royal Rumble record despite being attacked by a bear.
I think Daniel Bryan was attacked by a bear? pic.twitter.com/vT6VhXkTnA

— Nate (@BarstoolNate) April 27, 2018
Unfortunately, Daniel Bryan didn't wrestle a bear, which is something I would pay to see. Those disgusting red welts on his chest came courtesy of a chop battle with Roderick Strong – a struggle that Bryan most definitely lost.
Someone get Daniel Bryan some A&D Ointment man lol pic.twitter.com/GQJDqZ82DX

— Robert Littal (@BSO) April 27, 2018
Passion Of The Christ (2004) pic.twitter.com/AUcFQSgix8

— Hunter At Super Strong Style 16 (@FaceVHeel) April 27, 2018
However, despite losing that battle – and, ultimately, the match – Bryan managed to set a record for longest time in a Royal Rumble match. After entering at unlucky No. 1, Bryan remained in the match for a whopping 1 hour and 16 minutes, beating the record of 1 hour and 2 minutes set by Rey Mysterio in 2006.
March 2018: Daniel Bryan will never wrestle again.
April 2018: Daniel Bryan wrestles 75 minutes in Saudi Arabia

— Michael Killam (@MikeKillam) April 27, 2018
After the match, Bryan explained to WWE.com that, despite being in the ring for more than an hour, he didn't lose because he was tired – he lost because he couldn't get Braun Strowman out of the ring. He also touched on his history with Strong, who he hasn't wrestled since 2009, and explained that their chop battle fired him up even more.
As for Strong, apparently, he's looking forward to destroying Bryan's chest again shortly.
Looking forward to doing it again soon… https://t.co/Vk0qAce0yM

— Roderick Strong (@roderickstrong) April 27, 2018
That's a match that I, and undoubtedly numerous other fans, would love to see come to fruition. But maybe they should lay off the chops next time – I don't know if Bryan would be able to take it.
What did you think of Daniel Bryan's performance in the Greatest Royal Rumble? Share your thoughts and comments below!
Your Thoughts
Sign Up for a daily briefing from your #1 source for wrestling intel