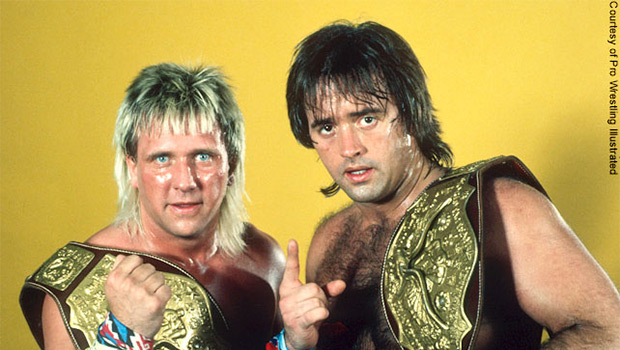 Iconic southern tag team "The Rock n Roll Express" were inducted at this year's WWE Hall of Fame ceremony, despite the Hall of Fame being considered the ending of a great career, Ricky Morton and Robert Gibson are still wrestling! Sure they don't move and fly like they used to, but they can still put on a great show.
Back on @BustedOpenRadio today 2-4pm. Kickin off the show w/ WWE HOF'er @RealRickyMorton talkin bout #Starrcade 🤘#RocknRoll pic.twitter.com/HUhtJATjlC

— Bubba Ray Dudley (@bullyray5150) September 28, 2017
Recently, WWE announced they were bringing back the Starrcade event to Greensboro, NC. Apart from a few matches featuring Smackdown talent, Hall of Famers Ricky "The Dragon" Steamboat and the Rock-n-Roll Express would make an appearance. That announcement lead to the Gallows and Anderson challenging the Rock-n-Roll!
We @LukeGallowsWWE , want the Rock N Roll Express at Starcade….
💰💴

— Karl Anderson (@KarlAndersonWWE) September 26, 2017
Challenge made! https://t.co/FnYD90vZ2T

— Luke Gallows (@LukeGallowsWWE) September 26, 2017
The legendary tag team responded!!!
Well Well You better bring those boys from Greasy OK, and wind them up @KarlAndersonWWE https://t.co/1SB8PahraH

— School of Morton (@RealRickyMorton) September 27, 2017
Be careful what you wish for @KarlAndersonWWE and @LukeGallowsWWE cause you might get it #RockNRollExpress https://t.co/quIe06v1Ln

— Robert Gibson (@TheRobertGibson) September 27, 2017
Let's danceski! #TooSweet https://t.co/vW9x5wPFDO

— Luke Gallows (@LukeGallowsWWE) September 27, 2017
PWIinsder told us all the talk was for real!
We are told the Rock N' Roll Express vs;. Gallows and Anderson match is official for the 11/25 WWE Starrcade event in Greensboro, NC.  The two teams began teasing it on social media last night.
Holy crap! This is going to be amazing! If this doesn't sell out the event, then I don't know what will.
Old Timers Making A "Nostalgia" Run
The Rock n Roll Express isn't the first "classic" tag team to return to WWE action.
A few years ago, the New Age Outlaws returned and won the Tag Team Titles!
The Dudley Boys returned and caused their typical brand of mayhem!
And who can forget the Hardys returning at Wrestlemania to win the Raw Tag Titles!
What can we expect from Ricky and Robert? Tag team mastery! Every tag team today owes a debt of gratitude to the Express and what they did.
There's no word yet on if Starrcade will be on the WWE Network, but I hope it is! I'd love to see this match plus the rest of the card!
What do you think about the Rock n Roll Express returning to the WWE? Share your thoughts in the comments below.
Your Thoughts
Sign Up for a daily briefing from your #1 source for wrestling intel