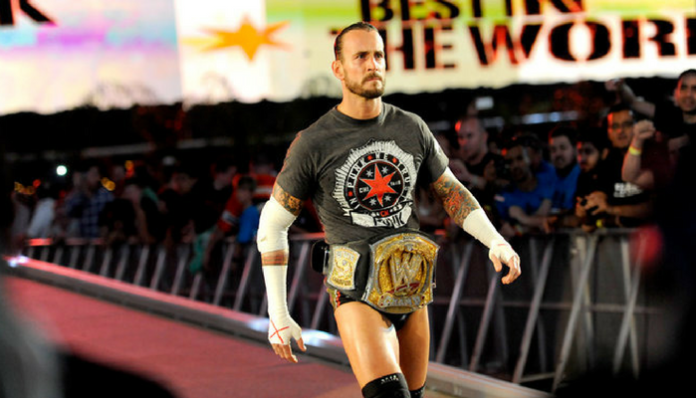 CM Punk is not coming back to wrestling. That is a fact. For now. An oft-repeated phrase in wrestling is "never say never." Stranger things have happened. Ever since his failed attempt in UFC, there has been a lot of talks that the Second City Saint would come back to pro wrestling. He's a big enough name that he doesn't need to go back to WWE. In fact, he was a massive name in independent wrestling before he made the transition to the big leagues. Ring of Honor's COO stated that Punk is welcome to sign up at any time.
But a recent marketing ploy from The Bullet Club has a lot of fans getting their hopes up. The shirts were presumably created for Ring of Honor's "Global Wars" event in Chicago on October 15th.
@CMPunk Hey man check this out. pic.twitter.com/dPYuHGQ4dN

— The Young Bucks (@MattJackson13) August 9, 2017
#villain ☔️ pic.twitter.com/gl9ixnvnil

— Marty Scurll (@MartyScurll) August 9, 2017
Fans are freaking out. But the Bucks and Bullet Club are notorious for naked marketing ploys designed to generate buzz. I'd be more excited if it wasn't so blatantly obvious what they were doing.
What would CM Punk's indie run look like?
I would bet a lot of money that CM Punk is not wrestling anytime soon. His heart is clearly not in it. He doesn't need the money. And he doesn't want the attention. Though, if Punk were to come back this might be the best way. A natural rebel joining a rebellious faction that is revolutionizing the wrestling industry. They're dominating both New Japan and Ring of Honor. But I wouldn't put much hope in this.
What do you think? Should CM Punk join the Bullet Club? Share your thoughts.
Your Thoughts
Sign Up for a daily briefing from your #1 source for wrestling intel