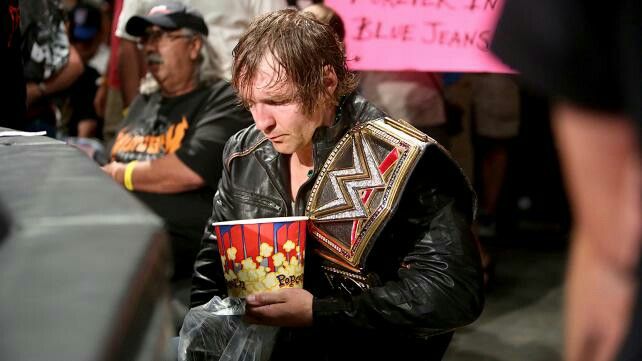 For a WWE Superstar, the camera is always rolling. It is the life of a celebrity. You have to watch what you're your doing and in this case…eating. Seth Rollins, after tumbling out of the ring at a WWE Live event, decided to grab a little snack for himself. I don't think this will get him in trouble. But it will no-doubt anger his fellow Crossfit cultists.
Here's a video of @WWERollins eating cotton candy 😂❣️ pic.twitter.com/jIIoEdeqan

— anna 124 (@jerkthieves) July 30, 2017
The Architect just needed a little mid-match snack. Since he was in the middle of a match he couldn't whip-up a protein shake or a paleo snack bar. So Seth Rollins grabbed the next best thing, cotton candy. Pure spun sugar and food dye. If that isn't CrossFit healthy, I don't know what is!
Seth Rollins Isn't The First To Eat During A Match
Randy just wanted a Christmas cookie!
Don Muraco would bring a sandwich to the ring!
Even the Boogeyman had to eat!
There's always room for turkey and pie around Thanksgiving!
Of course Stone Cold always had a few Stevewisers after a match.
Or sometimes you just get popcorn poured on you!
 Don't worry Seth, like the Rock, you're allowed to have a cheat meal every now and again!
Share your thoughts on this story in the comments below.
Your Thoughts
Sign Up for a daily briefing from your #1 source for wrestling intel