Over the last few years, WWE has been signing up a bevy of indie talent to stash away on NXT. While some people are mad that Vince is "killing the Indies" others are happy that indie stars are finally getting a shot on the big stage.
WWE's signing of established independent wrestlers is a relatively new phenomenon. Up until several years ago, the conventional wisdom was that indie wrestlers had a lot of "bad habits" that couldn't be coached out in "developmental." That changed after stars such as CM Punk and Daniel Bryan proved that indie wrestling stars could entertain WWE crowds.
However, there are big indie names that won't be making it to the "Fed" anytime soon.
Here are a few.
Matt Riddle
Riddle is the hottest singles wrestler on the independent circuit right now. He's nearing Ultimo Dragon-level title status.
Riddle had a bad falling out with the UFC over drug and money issues. Even though he's signed to WWN (who has a talent-share agreement with WWE) and is their current champion, I don't think WWE wants any bad blood with Dana White and the Ultimate Fighting Championship. They need to keep the lines of communications clear for talent exchanges. Riddle is making plenty of money without WWE and seems to have a problem with authority, which wouldn't benefit him in a company where everything goes through one all-powerful figure (kind of like UFC). Riddle also claims that WWE already decided to pass on him.
Moose
The former Atlanta Falcon and current Impact wrestler seems like the perfect fit for WWE. He's an ex-NFLer with a great look and freaky athletic ability. This is the type of guy that NXT was built for.
However, he has a troubling domestic assault on his record. WWE is trying to clean up its image and part of that means distancing from wrestlers with problematic pasts.
Chuck Taylor
The Kentucky Gentleman, a veteran who has become a big star in Chikara and PWG is one of the unique talents on the circuit.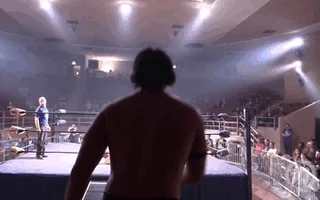 However, he was already given a try-out and a pass from WWE. He then went on a year-long "retirement" tour that turned out to be for not. Chuck is known, unfairly or not, as a primarily "comedic" wrestler and that no doubt hurts him when it comes to being considered for WWE.
Kota Ibushi
The Japanese Super-Junior megastar was a big hit during last summer's Cruiserweight Classic. His combo of strength and high-flying is unmatched by anyone else in the world.
He's wrestled with current Smackdown star Shinsuke Nakamura in a 5-star rated match.
However, after the CWC, he turned down an offer to sign with WWE and instead returned to Japan.
Cody Rhodes
Cody left WWE last year after being dissatisfied that he was still doing his "Stardust" gimmick. Ever since his release, Cody has been destroying it. He was probably the biggest WWE name to go straight back to the indies in quite some time. He has deals with Impact, ROH, and New Japan right now and is a big star in all three promotions. He seems to be loving his time on the indies.
He'll be back in WWE in a year or so after he's done sowing his wild oats and re-finding his love of wrestling. I hope.
Did we miss anyone? Do you think one of these wrestlers is headed to WWE soon? Share your thoughts.
Share:
Categorized: Ringside Intel Sports Wrestling