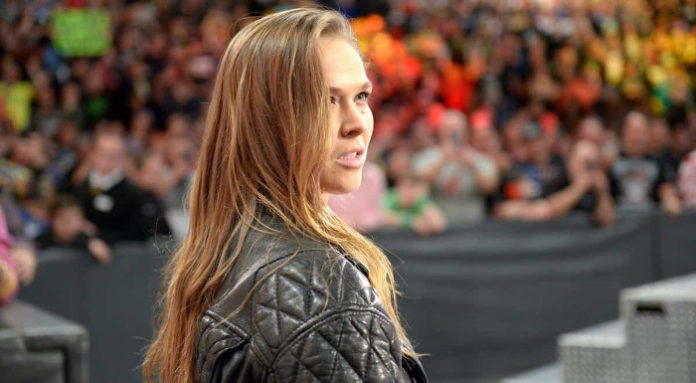 The August 6th Monday Night RAW promises to be a big one. With two weeks until SummerSlam, the heat is on to build up all the major feuds. Besides the obvious headline of Roman Reigns vs. Brock Lesnar, the biggest match on the card is Ronda Rousey vs. Alexa Bliss for the RAW Women's Title. Bliss has been running around trying to avoid the fearsome Rousey and her armbar, but her time and her friends are running out. With Mickie James sidelined with an injury, Little Miss Bliss looked towards actual crazy person Alicia Fox to be her new BFF.
Fox fought Rousey partner Natalya in a match the ended in controversy. Rousey tried to neutralize Fox and Bliss but was temporarily stopped by both. That didn't deter the former UFC champion. Rousey told Kurt Angle she wanted Alicia Fox. Tonight Rousey gets her request
Ronda Rousey is wrestling her first televised, non-PPV match tonight. via wwe.com
"Not wanting to wait until SummerSlam to get payback, Rousey will go one-on-one with Fox on Raw in Jacksonville, Fla., competing live on the red brand for the first time ever.

Will Rousey make Fox regret buddying up with The Goddess?"
And the Rowdy One is hyped!
If anyone cares to watch me beat the bat crap of out @thefoxxyone and watch @alexa_bliss_wwe_ 💩 her pants – tune in for Monday night #Raw tonight! pic.twitter.com/CLNr6TyYzN

— Ronda Rousey (@RondaRousey) August 6, 2018
Besides her two impressive PPV matches, Ronda has wrestled in a few house show tag matches. This will be her first broadcasted non-title singles match. Previously she wrestled Nia Jax in two house show matches with Bliss acting a special guest referee. This will be Ronda's 13th match ever and only her 4th singles match. Will Rousey continue to rise to the occasion? Will the match even happen? Tune in and find out tonight!
Your Thoughts
Sign Up for a daily briefing from your #1 source for wrestling intel