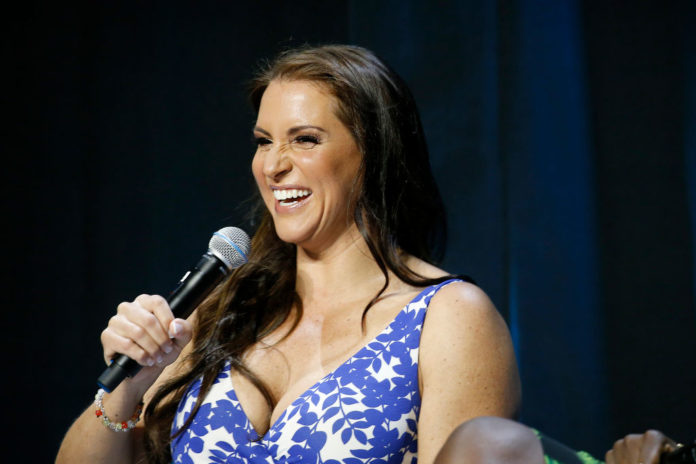 On Friday, July 20th, WWE tweeted out that Stephanie McMahon would make a "historic announcement" the following Monday on RAW. Speculation ran wild all weekend as fans tried to guess what the LadyBoss of WWE would drop. All the talk has solidified around Stephanie announcing TWO significant developments for the WWE women's roster.
BREAKING: Commissioner @StephMcMahon will appear LIVE this Monday on #RAW to deliver a historic announcement!

— WWE (@WWE) July 20, 2018
The announcement started with Triple H, Stephanie McMahon, and Vince in the ring. And things got a bit emotional.
HHH gets a little bit emotional as he looks at the women's roster, crediting what the women have done over the years and says that he is proud of them.#WWE #RAW

— Wrestling-News.Net (@WN_Net) July 24, 2018
— TDE Wrestling (@totaldivaseps) July 24, 2018
Stephanie announced that "Evolution" will take place on October 28th at the Nassau Coliseum on Long Island as the first all women's PPV!!
You heard right! The first-ever ALL-WOMEN'S PAY-PER-VIEW event comes your way October 28…marking the next chapter in @WWE's Women's EVOLUTION! pic.twitter.com/Uvp9b3qFjB

— WWE (@WWE) July 24, 2018
Every Women's WWE title will be defended as well as the finals of Mae Young Classic.
Here are some details and speculation about the PPV and the possibility of Women's Tag Belts.
Women's Tag Belts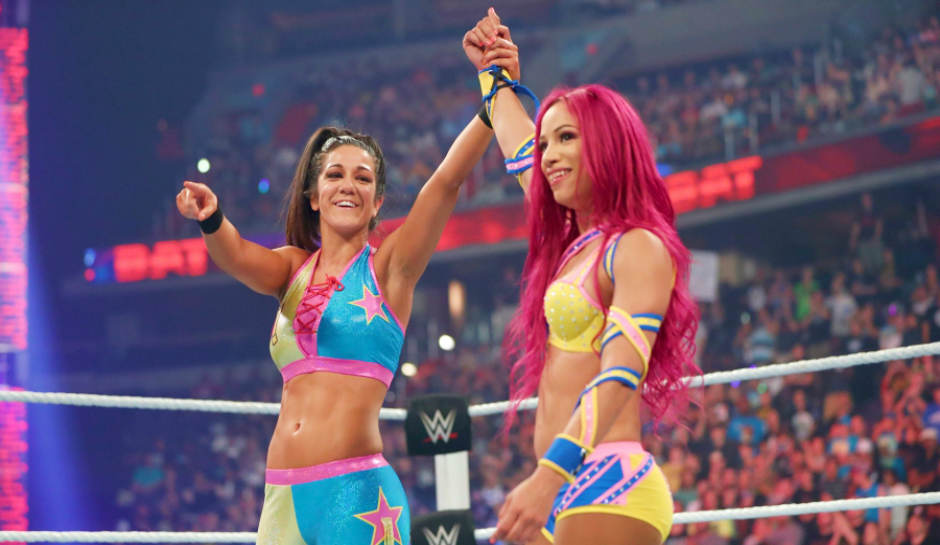 Historians will note that this won't be the first women's tag belts. Women Tag Teams were able to win gold from 1983-1989.
WWE has built up a few potential women's tag teams. The Bellas, The Riott Squad, IIconics, Alexa and Mickie, Absolution, and even Natalya and Ronda Rousey could potentially all compete for the women's tag belts. However, my money would be on the unlikely duo of Sasha Banks and Bayley winning the straps as a classic "forced to be together" tag team of rivals.
Women's-Only PPV
This is the biggest possible announcement. Over the last year, WWE has built up the Women's division by allowing them to compete in the same events as men. The first female Elimination Chamber and Royal Rumble match all took place in the next year. The Mae Young Classic is a female-exclusive PPV showcasing the best up-and-coming lady wrestlers. But having an entire event dedicated entirely to female wrestling would be gigantic. It would, without question, be the biggest female wrestling event of all time. And with rumors swirling that Ronda Rousey and Charlotte are main eventing WrestleMania next year, this is the biggest opportunity yet for the women to prove that they're on the same level as the men.
Will fans buy into it though? That will be the big question. While the WWE Universe has been receptive to women getting an elevated spot on shows, having an entire event featuring only them is another feat entirely. Women's wrestling is still only about 20% of the roster and matches on any card.
Your Thoughts
Sign Up for a daily briefing from your #1 source for wrestling intel