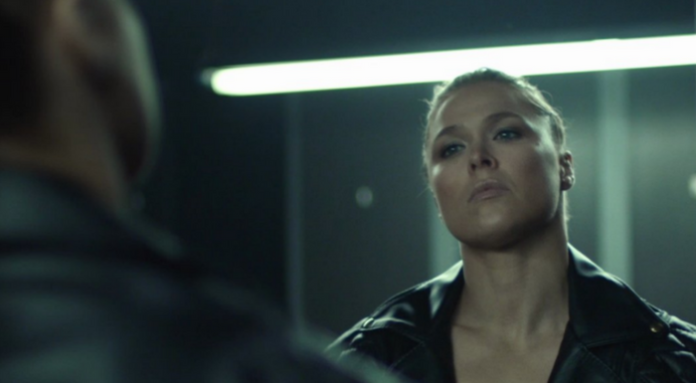 WWE announced with a poignant commercial during the July 9th episode of Monday Night Raw that Ronda Rousey will be a pre-order playable character in WWE 2K19.
The commercial featured audio clips from Rousey's appearance on Piper's podcast in 2015, in which Piper gives Rousey his blessing to use the "Rowdy" nickname. Rousey cited Piper as an inspiration even during her MMA career, and she styled her ring gear after his. She's even worn his signature leather jacket to the ring.
Watch the commercial below.
In a WWE press release Tuesday, Piper's son further gave his support for Rousey to carry on his father's legacy:
"Anybody can call themselves 'Rowdy', but it takes a special, talented and dedicated individual to live up to the 'Rowdy' name," said Colt Toombs, son of "Rowdy" Roddy Piper. "My dad saw it in Ronda, and so do we. She is truly 'Rowdy to the core,' and that mindset really comes through in the trailer for WWE 2K19."
Rousey added in the release that "having the support of the Piper family means everything to me."
Ronda Rousey Isn't "Stealing" Piper's Gimmick
Indeed, Rousey's relationship with Piper is unique. Every wrestler has been inspired by another, but hardly any (outside of second-generation wrestlers) have been given the go-ahead to adopt outright the persona of the wrestler they idolized. Wrestling is an competitive and guarded business, and wrestlers don't take kindly to other people stealing their moves, let alone gimmick infringement. The fact that both Piper's family and WWE have allowed Rousey to make her character in Piper's image proves that they see a tremendous amount of potential in her.
I will admit: as a fan of Piper's myself, I wasn't too impressed when Rousey showed up in WWE looking like she was cosplaying as female "Rowdy" Roddy Piper. However, Rousey's in-ring prowess shows that she's more than worthy to carry on the name.
Your Thoughts
Sign Up for a daily briefing from your #1 source for wrestling intel