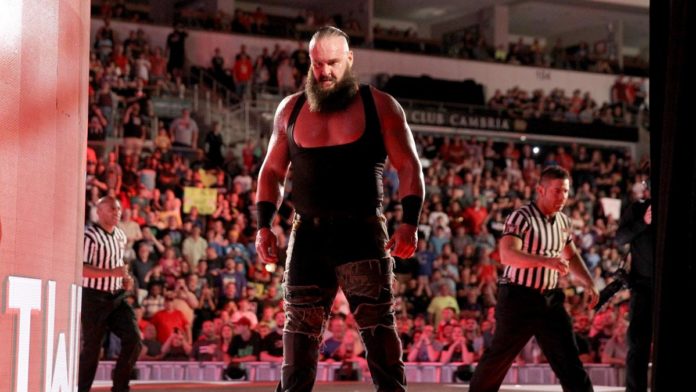 Braun Strowman's feats of strength are endless. On the July 2nd episode of RAW, the Monster Among Men In The Bank once again disproved any theory that he may be a human. During the main event against Kevin Owens, KO decided to run away and hide in port-a-potty. Braun decided to take KO for a little ride. HE SMELLED HIM!
Want the latest Braun Strowman updates? Sign up for our newsletter!
Yes. Braun Strowman duct taped KO into a porta-potty, dragged in on stage, and then shoved the porta-john OFF the stage.
KO survived…but was understandably a little blue afterward.
Everyone reacted wildly to this.
Crowd chanting holy shit made that better than it should have been.

— David (@GesusKriest) July 3, 2018
Looks like Kevin Owens just blue himself

— Alan Thicc (@ScandalousMurph) July 3, 2018
this is the life we've chosen pic.twitter.com/IBKpGSwWGr

— Bill Hanstock🌹 (@sundownmotel) July 3, 2018
Even WWE was shaken.
#RAW pic.twitter.com/dqYoWHFlsz

— WWE (@WWE) July 3, 2018
Every week, WWE does a great job of showing what a force of nature Braun Strowman is.
He's the scariest wrestler in recent WWE memory. Even The Big Show and Mark Henry in their prime didn't inspire the fear and awe Braun does. Not only is he powerful, but he is fast, smart, and charismatic. Many people thought WWE giving Braun the MITB briefcase was a wrong decision. I could not disagree more. He doesn't need the belt, but making him the champion will push him into becoming the mainstream star WWE desperately needs.
More than Roman, Finn Balor or Bayley, Braun Strowman is the star of the future. WWE knows this and will continue to push him as an indestructible force.
If they play their cards right, Braun could be the greatest monster in WWE's history. 
Your Thoughts
Sign Up for a daily briefing from your #1 source for wrestling intel