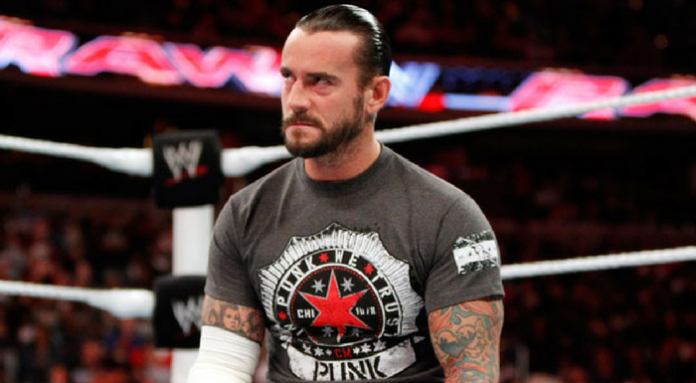 UPDATE
Earlier this week, a jury found Phil "CM Punk" Brooks and Scott "Colt Cabana" Colton not guilty on all counts in the defamation suit brought against them by WWE Dr. Chris Amann. On Wednesday, Cabana released a podcast detailing his day to day experience at the trial.
While the judge prohibited Cabana from podcasting about the trial as it was still ongoing, Cabana recorded his thoughts after each day, offering an intimate look at the proceedings. Here's a short rundown of some of Cabana's podcast notes, via Fightful:
A theme throughout the trial for Cabana seemed to be the stark differences between his world as a professional wrestler and the world of court rooms and lawyers. He said during jury selection there were people dismissed for being bias towards doctors or wrestlers and there was one CM Punk fan who was dismissed.
Cabana also interviewed his lawyer for the podcast. Notably, his lawyer said the disparity between the length of the trial and the length of the jury deliberation was remarkable.
Listen to the full podcast below.
Indeed, Amann clearly didn't have much of a case against Punk and Cabana. Read our original story about the trial below.
*****
CM Punk and Colt Cabana's potentially multi-million dollar lawsuit brought by WWE doctor Chris Amann began in earnest this week, and it could drag on for a while.
Here's everything you need to know about the trial.
What's It About?
The trial centers around episode 226 of Cabana's – real name Scott Colton – popular wrestling podcast, "The Art of Wrestling." In that episode, which was published on Nov. 26, 2014, Punk claimed that Dr. Amann had dismissed and misdiagnosed a growth on his back which was later found to be MRSA, otherwise known as a staph infection. Further, Punk claimed that Amann's incompetence as a physician was mostly responsible for his departure from WWE.
In 2015, Amann sued Punk and Cabana for defamation and invasion of privacy.
What's Happened So Far?
Day 1: The first day of the trial (May 29) was mostly spent replaying the episode of Cabana's podcast. Amann also began his testimony refuting Punk's claims and describing the damage it did to his reputation.
Day 2: On Wednesday, roughly two months of emails and texts focusing on Punk's medical issues were shown to jurors as Amann continued his testimony. The messages culminated in a Dec. 2 text Punk sent to Amann that read: "My head is killing me. Why do I have these headaches?" Two days later, Punk texted Amann that he wanted to go to the hospital.
The emails and texts were presented by Punk's legal team in response to Amann's lawyers tying his health problems to the 2014 Royal Rumble.
Day 3: The third day of the trial featured video testimonies about CM Punk's anger over his early elimination from the 2014 Royal Rumble.
WWE employees who gave taped testimonies included Kane, referee John Cone, athletic trainer Larry Heck, and audio technician Timothy Gaeng.
Cone stated that, after he informed Punk of his early elimination, Punk cussed him out and told him, "If you make me leave this f*cking match, I'll f*cking quit right now." Punk infamously left WWE the next day.
Heck said he witnessed Punk cuss people out backstage before walking out. He also testified that Amann noted Punk had suffered a concussion during the match.
Kane, Heck, and Cone all testified that they weren't aware of a lump or infection on Punk's lower back.
What Are The Ramifications?
During the podcast in question, Punk attributed his infamous departure from WWE to poor health blamed on Amann. Here's an excerpt of Punk's comments from the podcast, courtesy of Sports Illustrated:
 I don't know what is up and what is down. I can't sleep, I can't [expletive] train. Doc—Doc is giving me—Doc's like, 'Oh you're sick, here's a ZPak.' They Z-Pakked me to death, so much that in December I [defecated] my pants on a SmackDown because that's what antibiotics do to you, right?"
Damningly,  CM Punk also told Cabana that he called Amann a "lazy piece of s***" after he asked him to remove the lump on his back:
"Let me ask you something, Doc, are you just—is that like your medical opinion or are you just a lazy piece of [expletive] and don't want to [expletive] do it, because I've seen you cut a million of these things out of somebody."
As for Cabana, he didn't have much to say during the episode. However, as host of the show, it was arguably his responsibility to fact-check Punk's claims. But, being longtime friends with Punk, Cabana was hardly an impartial party.
Amann contends that Punk's comments are false. The WWE physician claims that Punk made comments knowing they would garner negative media attention on Amann. A statement from Amann's legal team reads:
"The false statements and implications concerning Amann in the podcast are highly offensive in that they accuse Amann of a gross lack of integrity as a medical doctor, an inability to perform his professional duties as a medical doctor, and in placing the financial interest of his employer above life-threatening health conditions of his patients."
Who Will Win?
There's bad blood between CM Punk and Amann, as evidenced by the fact that they were unable to settle out of court. I am skeptical about Punk's claims but chances are that he'll win. This is because "actionable defamation requires that the defendant uttered statements that were couched as factual assertions." Punk's statements could be construed as "opinion" rather than "fact."
Nevertheless, this case could drag out for a while.
What do you think of the trial? Who do you believe? Share your thoughts and comments below!
Your Thoughts
Sign Up for a daily briefing from your #1 source for wrestling intel