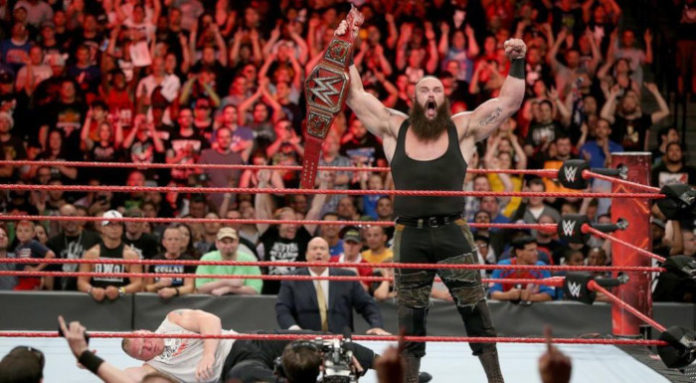 Braun Strowman is not shy in making a statement about his skills every now and again. The most recent relates to Brock Lesnar, the current WWE Universal Champion. If you want to find out what Braun Strowman has to say about Brock, be sure to read on!
Want the latest Lesnar updates? SIGN UP For our Newsletter!
"I'm a Good Bit Stronger than Brock"
There is no doubt in my mind that Braun Strowman is the strongest wrestler on the WWE roster. Many would love to see him face Brock Lesnar again, but this time take the title away from him permanently.
Strowman is confident in his chances if he were to face Lesnar in the future; this much was evident during an interview at the 'For You Consideration Emmy' event. At the event, he claimed the WWE strongmen title but also gave some statements regarding his possible future opponent.
"As far as strength wise, I believe I'm a good bit stronger than Brock."
Braun Strowman also spoke about his rigid diet, which contains quite a few calories; this is also needed, considering the man has a billed weight of 385 pounds!
"I'm a big eater, if I went to Waffle House, I would order ten eggs – four yolks – two grilled chicken breasts, a double order of hash browns, smothered, covered, and chunked, and a coffee."
Lesnar's Technical Ability
Even though Strowman claimed he is stronger than Lesnar, he did take a moment to complement the abilities of the current WWE Universal Champion.
"If its things like technique and stuff like that, then I know he's a lot more advanced in that, so it's a 50/50 thing. Brock's a tough individual, but I like to think I am as well."
While I admire that Strowman puts down some kind words for Lesnar, the statements he made about him were only a true approximately a decade ago. Lesnar has become complacent in his role as the WWE Universal Champion, far from the champion we once knew.
Let's face it, Strowman still has a lot to prove and could do the WWE Universal Championship justice at this point. Lesnar on the other hand always has one foot outside the door at the WWE. While there is no doubt he is at the top of the company, in status and pay, he is far from the WWE Universal Champion the WWE Universe deserves. I have nothing against the man personally, but having him as the WWE Universal Champion has done nothing but ruin a prestigious title under the guise of nostalgia and 'what-could-have-been's.'
Would I like to see Strowman face Lesnar again? Yes, but only if Strowman walks away as the WWE Universal Champion. I don't think it a good idea for Strowman to take another loss against Lesnar, so if the match were to go ahead in the nearby future, I hope he gets the win this time.
Would you prefer Strowman as the WWE Universal Champion? And do you think Strowman is stronger than Lesnar? Let us know in the comment section below!
Your Thoughts
Sign Up for a daily briefing from your #1 source for wrestling intel