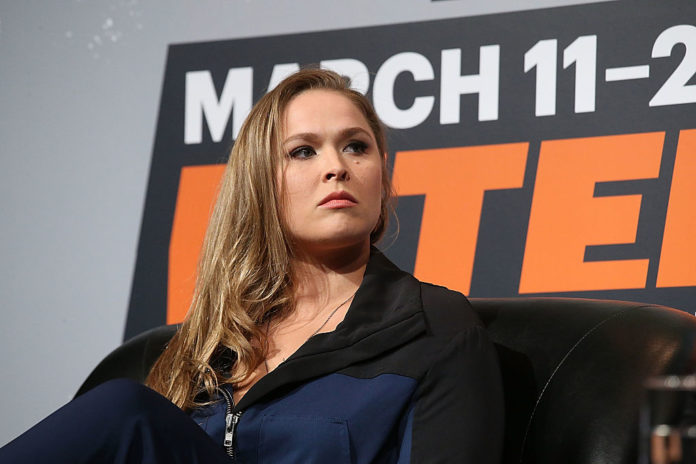 Despite some indications that Ronda Rousey would feud with Mickie James, WWE decided to put the former UFC champion in a big match, perhaps more significant than her debut. It looks like Rousey will get a title shot at Money In The Bank. This angle started at the NBC Upfronts, which is an annual conference where NBC-Universial shows off its television plans to advertisers.
Rousey confirmed via E!
"We are very civil and professional ladies, so Nia did just challenge me for Money in the Bank to come after her title," Rousey told E! News on the red carpet. "I happily oblige respectfully, so I can sit next to her."

While they appeared cordial as they gave a joint interview, Jax noted, "We can still get along for now, but once we get in the ring, it's over. All bets are off, right?"
This is huge. That it took place in front of advertisers at a television conference was no-doubt a play to get corporate interest in sponsoring the match and MITB PPV.
They set up Ronda Rousey's next match at today's NBC Upfront presentation, against Nia Jax. We can report that the match is scheduled for Money in the Bank on 6/17.

— John Pollock (@iamjohnpollock) May 14, 2018
Too Soon for Ronda Rousey?
Fans seemed to think that Rousey will be built up for a year to challenge Charlotte for the title in the main event of WrestleMania 35, a historic first. However, if Rousey is set to win the title off Jax now, then all bets are off.
If this match happens, which it looks like it will, then it will be a massive test for Rousey. She shined in her debut at Wrestlemania 34, but she was also under the wing of three experienced in-ring competitors. Nia Jax is relatively new to the business. However, Jax has proved herself worthy of putting on good matches. Rousey also had what is agreed upon as the best debut in pro-wrestling history.
But will Rousey take the title or will the match end in shenanigans? Wouldn't it make more sense to have Rousey win the belt at SummerSlam? The rest of her "Four Horsewomen" are currently at the WWE PC. Perhaps they will debut? 
Your Thoughts
Sign Up for a daily briefing from your #1 source for wrestling intel