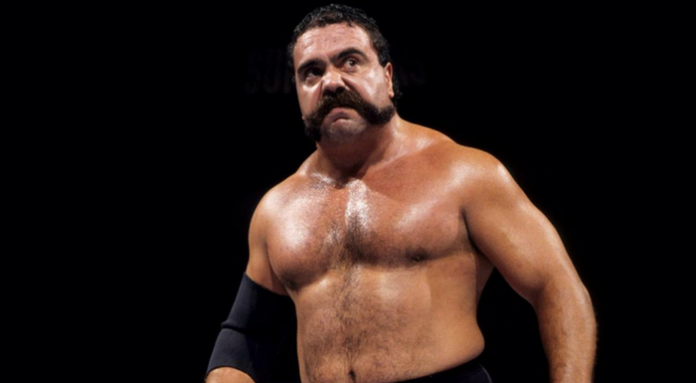 Former WWE wrestler Nick "Big Bully" Busick has passed away at the age of 63, according to his wife.
WWE confirmed Busick's passing Tuesday evening.
WWE is saddened to learn that former WWE Superstar Nick "Big Bully" Busick has passed away at the age of 63. https://t.co/my9TOgCczQ

— WWE (@WWE) May 8, 2018
Busick, a former amateur wrestler and accomplished powerlifter, never underwent any formal training for pro wrestling, save for a one-week crash course. Nevertheless, he wrestled his first match for the World Wide Wrestling Federation (WWWF) on May 12, 1978, losing to Billy Red Lyons.
A native of Pittsburgh, Busick moved to Atlanta in the early 1980s and developed his "Bully" character while wrestling for Jerry Blackwell in the North Georgia Wrestling Alliance, where he became a one-time NGWA Heavyweight Champion. He debuted for WWE in 1989, where he continued to wrestle under the Bully persona and was managed by none other than Harvey Wippleman. Busick spent just three years in WWE, but in that short time he wrestled several WWE legends, including Bret Hart, The British Bulldog, Jimmy Snuka, and Sid Vicious.
Busick also promoted MMA events in Ohio, where he was born. He hosted three events under the "Big Bully MMA" banner.
Busick was diagnosed with esophageal cancer in 2015. After losing 78 lbs during chemo, Busick was declared cancer-free in 2016, but was subsequently diagnosed with a brain tumor in 2017. Sadly, he was also diagnosed with spinal fluid cancer that same year.
Busick resided in Weirton, West Virginia with his wife, Lorie. Earlier this month, Lorie shared that Busick was able to come home on hospice care. She announced the news of his passing on Facebook.
"Big Bully Busick has past with his wife and children at his side. Thank you all so much for all your thoughts and prayers. Nick Busick was so humbled by all of your cards prayers visits."
R.I.P. Nick "Big Bully" Busick.
Do you remember watching Nick "Big Bully" Busick wrestle? Share your thoughts and condolences in the comment section below.
Your Thoughts
Sign Up for a daily briefing from your #1 source for wrestling intel