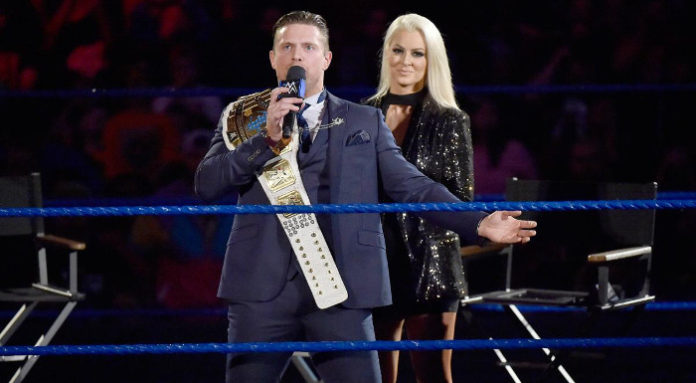 The Miz isn't afraid to let fly on the mic. In the last few years, he has become more willing to let his "real" feelings flow. Beyond being the A-Lister that hates on the plebes, he often cuts promos on his fellow wrestlers who he accuses of getting more airtime and opportunity than him. He does it in a "bad guy" way but often times his interviews and rants have a deeply embedded truth to them.
On August 23rd, 2016 he took it to a new level. The Miz cut what is believed to be one the more memorable promos in recent wrestling history.
The Context
The Miz was involved in a semi-feud with Smackdown GM Daniel Bryan. Bryan was critical of The Miz's wrestling style, particularly when it came to using heel tactics and his wife to win matches. The Miz had enough and decided to let the former World Champion have it.
Talking Smack host Renee Young didn't know how to react.
 Watch the full promo below in all of its glory.
I show this to anyone who says The Miz can't act. Look into his eyes and hear his voice. That was real. He was feeling those emotions. He knows a lot of "pure" wrestling fans don't respect him and think he moonlights. But as he's said multiple times, he did The Real World so he could get into wrestling. Not the other way around. His passion for this business is undeniable.
The Miz's Repeat Performances
In the buildup to the Survivor Series match vs. Baron Corbin, Miz responded to the Lone Wolf mentioning his wife in a promo sent via cellphone. The A-Lister was once again unfiltered and dangerous.
Hey @BaronCorbinWWE …. pic.twitter.com/w33xydJ5qy

— The Miz (@mikethemiz) October 30, 2017
In another feud also brought in Dean Ambrose and his wife, Renee Young. The lines of real and wrestling were bent and blurred.
Three months later, in the build-up to Wrestlemania, He cut another sizzler on John Cena. We knew what was coming, but it still comes off real. "BUT WAIT THERE'S MORE!"
Hard to believe that the same man speaking with passion and fury started out as some scared little kid who couldn't read off a phone number.
Are you a fan of Miz on the mic? Share your thoughts.
Your Thoughts
Sign Up for a daily briefing from your #1 source for wrestling intel