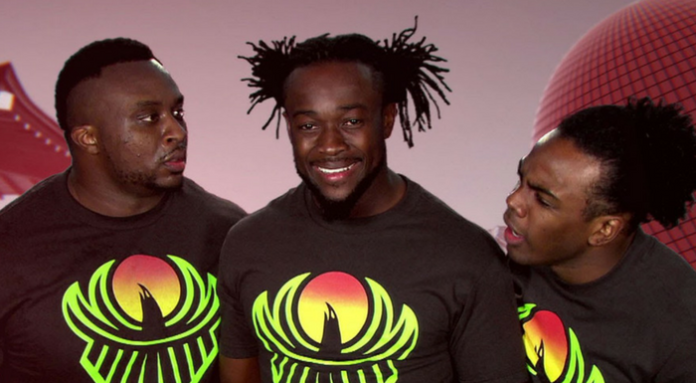 The field for the men's Money in the Bank match has been decided – except for one. The New Day has yet to decide which one of them will enter the eight-man ladder match, and they're not giving us any hints as to who (who? who?) it will be.
However, despite rumors that Big E is on the verge of a big singles push, I don't believe he's the right man for this job. Instead, New Day should send in their ladder match specialist: Kofi Kingston.
Why Kofi?
Instead of jumping straight into why Kofi should go to MITB, I'll first argue why Big E and Xavier Woods shouldn't.
Big E is undoubtedly Vince's favorite member of New Day: he's charismatic, a good wrestler, and – most importantly – big. However, there are quite a few charismatic big men in the MITB match already, including Braun Strowman, Rusev, and Samoa Joe. So throwing Big E into the mix would be redundant. Furthermore, despite the rumors, it doesn't appear that New Day is breaking up any time soon. So if a singles push is in the works for Big E, he'll likely have to wait a bit longer.
As for Xavier Woods? No offense, but he's mostly served as New Day's hype man. When the trio were tag team champions, it was more often than not Big E and Kofi who defended the gold while Woods tromboned at ringside. While Woods stands to suffer the most from a New Day breakup and therefore could most use the boost of a MITB appearance, within storyline, it wouldn't make much sense for New Day to send their weakest link into such a pivotal match.
Which brings me to Kofi. Kofi is the most experienced of the three, both in the business and in the ladder and MITB matches. As The Miz pointed out in the segment above, Kofi has already been in EIGHT MITB matches – but he also didn't win any. Maybe the ninth time will be the charm?
Nevertheless, despite Kofi's less than stellar track record in MITB, his vast experience makes him New Day's logical best choice if they hope to reach that briefcase. But we'll just have to wait and see who they pick.
Do you agree that Kofi Kingston should be New Day's entrant in the MITB match? Or do you think it should be someone else?
Your Thoughts
Sign Up for a daily briefing from your #1 source for wrestling intel