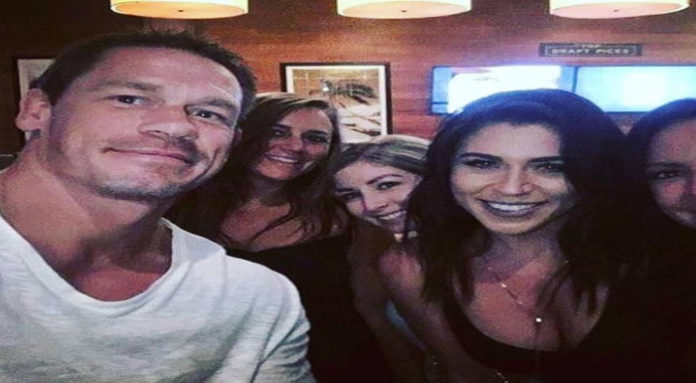 While there are certainly a lot of things that score higher on the "news" list, John Cena's new look has put many WWE fans in a right tailspin. Here's the story! John Cena Goatee?
John Cena's New Beard
Never thought I'd see the day John Cena grows his facial hair, he'll look different with a beard and a mustache. #JohnCena #WWE #WWE2k19 #WWEMITB #MITB pic.twitter.com/wb0xHLlphW

— Adhm The Grand Slam Kingslayer (@Adhmosama2) May 12, 2018
Cena recently appeared in public with a little rougher look than usual. While we are used to seeing Cena clean-shaven, this time it would appear Cena is growing a beard!
My Take on Things
We have seen Cena on television with the same look for years, so this looks incredibly strange to everyone. As you may expect, Cena's new look has caused fans to start speculating about the cause. There are also some fun reactions! Here are some of the latest tweets on Cena's new look:
Can't anybody understand that john cena grew a beard so people would be able to see him ? #Johncena

— Eichpiga (@camejix10) May 13, 2018
I see what u guys are freaking out about. JESUS!#JohnCena #beard #goatee #omg pic.twitter.com/KOYvCW9LVQ

— Ravish Kumar (@ravi5h) May 14, 2018
John Cena is starting to look like Mark Wahlberg….WHAAAAAT?! #JohnCena #MarkWahlberg pic.twitter.com/dG2gHcJnY2

— Peter Clyne Jr (@PeterClyneJr) May 13, 2018
Uh… is John Okay..? #WWE #JohnCena pic.twitter.com/r7UHYwVIv4

— The Smarky Irishman (@SmarkyIrishman) May 12, 2018
HEEL TURN?!?! 🤔 Nah I'm kidding 😂😂😂 he looks great with facial hair 👍 I can finally see him #WWE #RAW #JohnCena #WWEUniverse #WWEUKTour #SDLive #NXT #205Live pic.twitter.com/aZSsdOOdmG

— Good Bad News Lenin (@leninmejia28) May 13, 2018
The consensus of opinions? Many believe Cena has a bit of a midlife crisis. Others think he is preparing for a movie role? Some people also believe he might be doing some weird media appearances to deflect the attention of his budding relationship with Carmella?
Honestly, I don't really care and I'm team Nikki at this point. If rumors are true, Cena is a quite the douche. So, who cares if he has facial hair or not?
Your opinion on Cena's new facial hair?
Your Thoughts
Sign Up for a daily briefing from your #1 source for wrestling intel