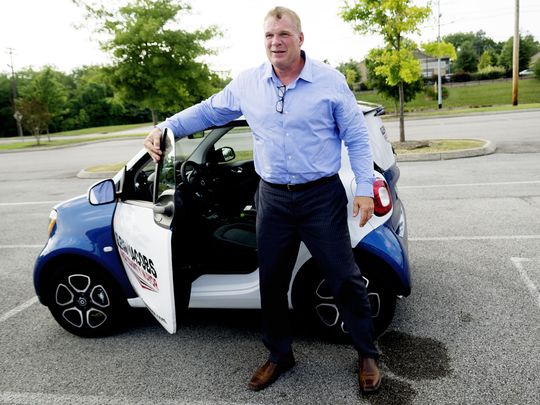 We've documented that long history of wrestling and wrestling-adjacent people running for and winning to political office. From Jesse Ventura to Donald Trump, there are several sports entertainers who have made the jump from wrestling to politics. The latest to do this is the Devil's Favorite Demon, Kane. On May 1st, Knox County in Tennessee elected Glenn Jacobs (aka Kane) Mayor. While this was just the Republican primary, the area is solidly Republican red (oh I get it) and Kane is almost assuredly going to win the August general election. It was close too, with Jacobs winning by less than 20 votes!
By voting, you agree to receive email communication from Ringside Intel. Click
HERE
for more information.
Jacobs ran on a platform of personal liberty, lower taxes, smaller government, and a push against special interests with their hands out aka "Swamp Critters."
— Glenn Jacobs (@GlennJacobsTN) April 8, 2018
Glenn, along with his family, volunteers and supporters declare victory in a hard-fought Knox County Mayoral race this evening. Together we won! Tomorrow, we move forward.

— Glenn Jacobs (@GlennJacobsTN) May 2, 2018
Thanks to everyone who helped win this historic victory!! The people who cast a ballot for me, my great team, my wonderful volunteers. Looking forward to VICTORY in the general election!

— Glenn Jacobs (@GlennJacobsTN) May 2, 2018
Here's the story from Knoxnews.com
Tuesday's results have not been certified and will not be until May 21. The county will sift through 43 provisional ballots later this week, a count that could, at least theoretically, change the outcome of the election, but it is unlikely.

Jacobs made a career out of theatrics as the former WWE wrestler, Kane, and Tuesday's finish was no different.

He was down 1 point when early voting came in and down 391 votes with just over 50 percent of the precincts reporting. But he turned it around and was up 108 votes when 87 of the 89 precincts had been counted. A few minutes later, the final two precincts were counted and he finished ahead.
Here's how WWE stars reacted to the Big Red Machine turning his fire and brimstone towards politics.
Yay!!!! Congratulations Glenn 🙌🏽 https://t.co/AmvUehUoha

— Lina Fanene (@NiaJaxWWE) May 2, 2018
Congrats!!!! https://t.co/mUtDsCuUOa

— Adam Pearce (@ScrapDaddyAP) May 2, 2018
Congrats Kane, please don't set your opponents on fire!
Your Thoughts
Sign Up for a daily briefing from your #1 source for wrestling intel