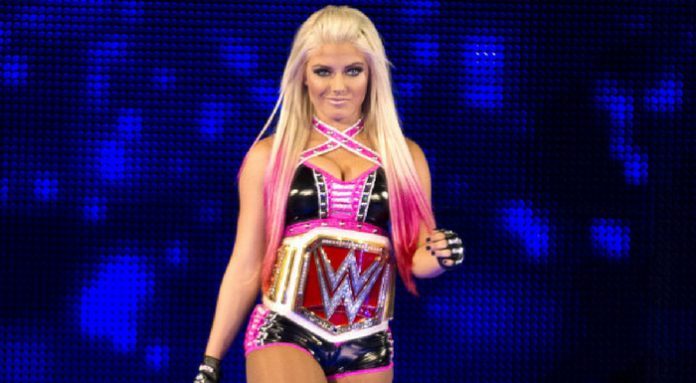 Alexa Bliss failed to recapture the Raw Women's Championship from Nia Jax at Backlash, and she potentially might not get another title shot for a while. Not long after the conclusion of Sunday's pay-per-view, WWE reported that Bliss suffered a shoulder injury.
Alexa Bliss suffered an injury to her left shoulder during her Raw Championship Match against Nia Jax at WWE Backlash. Bliss is currently awaiting further medical evaluation.

Stay with WWE.com for any updates on Bliss' condition.
BREAKING: @AlexaBliss_WWE suffered a shoulder injury in her match against @NiaJaxWWE for the #RAW #WomensChampionship at #WWEBacklash. https://t.co/P0zU1tu4VF

— WWE (@WWE) May 7, 2018
Real Or Storyline?
As with all WWE-reported injuries, we have to consider whether this is just part of the storyline. On one hand, a scripted shoulder injury would fit right in with the extreme physicality of the match – Jax threw Bliss around like a rag doll.
It is officially PLAY TIME for the #RAW #WomensChampion!#WWEBacklash @NiaJaxWWE pic.twitter.com/cSQbXmhCr5

— WWE Universe (@WWEUniverse) May 7, 2018
However, I'm unfortunately leaning towards this being a legitimate injury. Not only does WWE tend to use more flowery language when its a storyline injury, but Bliss just took time off to recover from minor cosmetic surgery. It seems unlikely that WWE would purposefully write her off TV again so soon, especially given her popularity.
That being said, as long as this injury will not require surgery or significant recovery time, I think it could actually work in Bliss's favor. Suffering an injury at Jax's hands only gives Bliss more ammunition for her argument that Jax is a big bully. Furthermore, Bliss's "Moment of Bliss" segments were extremely well-received by fans, and she should definitely shoot more if she's able.
But with Bliss seemingly out of contention for now, WWE must find a new opponent for Jax. Mickie James seems like the logical next contender, but she's tied up with Natalya and Ronda Rousey at the moment. However, with Money in the Bank right around the corner, feasibly anyone could be Jax's next challenger. We'll just have to wait and see.
Do you think Alexa Bliss's injury is real or storyline? What do you think is next in store for Nia Jax? Share your thoughts below!
Your Thoughts
Sign Up for a daily briefing from your #1 source for wrestling intel