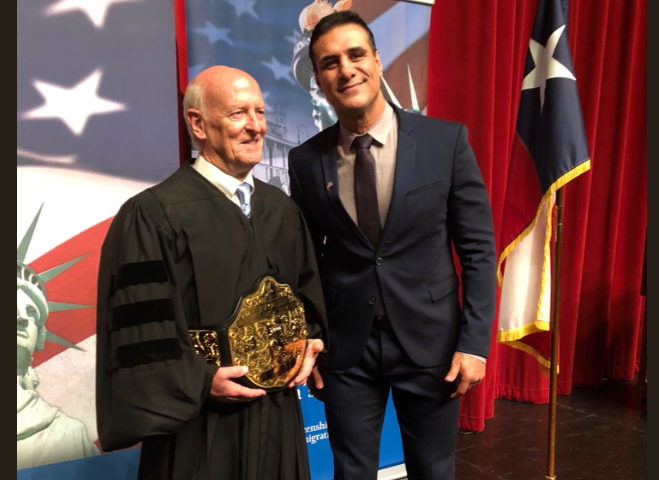 Congratulations to Alberto Del Rio/ El Patron (real name Jose Alberto Rodriguez) who became an American citizen on May 24th in San Antonio. The former World Champ even let the swearing-in judge pose with his WWE World Heavyweight Title.
¡Felicidades! @PrideOfMexico recibió oficialmente su ciudadanía americana en la ceremonia de naturalización en San Antonio, Texas. 🇲🇽🇺🇸 pic.twitter.com/dwdj9aaSOM

— Combate Americas (@combateamericas) May 24, 2018
Despite his ups and mostly downs in the last few years since leaving WWE, it is nice to see Del Rio reach a goal and become a citizen of this great country.
Let's talk about Patron bringing his WHC belt with him and then having the judge pose with it? That is a power move. I love wrestlers. They can make anything about wrestling. Tommy Dreamer says it perfectly.
Sitting watching my nephew graduate high school
I hear pop and circumstance & I say OHHH YEAH in my Randy Savage voice
Wrestling has warped my normal existence

— Tommy Dreamer (@THETOMMYDREAMER) May 24, 2018
I feel the same way. When I hear a gong or bell I always think the Undertaker is coming. I say "brother" way too often.
Your Thoughts
Sign Up for a daily briefing from your #1 source for wrestling intel