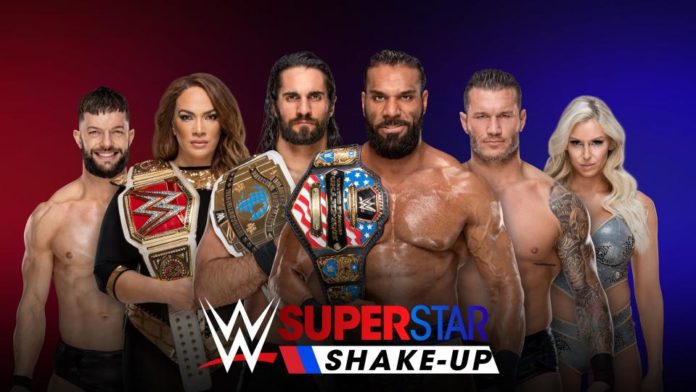 Don't forget to sign-up for the newsletter and get the latest news!
The April 16th and 17th episodes of Raw and SmackDown Live are primarily built around the annual Superstar Shakeup. The shake-up is a time when WWE re-shuffles the roster and also calls up new talent from NXT. There's plenty of speculation about who is moving where and why. There haven't been any strong leaks either way, but we can use context and history as our guide to take some educated guess.
Here are seven changes to expect from the WWE SuperStar Shake-Up
The New Day moves To Raw
Last week's number 1 contenders' match against the Usos seemed to be a bow on what of the most compelling feuds in the last year. The New Day is gold wherever they are. Moving them to Raw would put them in fresh match-ups against The Bar and Woken Hardy And Bray. The Usos look to be working with the Bludgeon Brothers for the next few months. Look for Heath Slater and Rhyno to return to the place where they had their greatest success, they were the inaugural SmackDown Tag Team Champions.
 NXT Call-Ups!
The greatest unknowns come from the SuperStar Shakeup are when NXT talent gets the call from the main roster. We've already met Ember Moon, THe IIconics, and No Way Jose, but who else should we expect? Look for Andrade Almas, sAniTy, Kassius Ohno, Lars Sullivan, and EC3 to get the call-up to the big show. Expect a few surprises and a face or two you haven't seen much of on NXT TV. Remember, Elias debuted after a low-key and lackluster NXT run and Braun Strowman never wrestled in NXT before coming to the main roster.
Sasha and Bayley Officially go their separate ways
The Boss and Hug Connection explodes with a match on tonight's Raw. Months of simmering tension overflowed in recent weeks. I'm not sure who moves where, but my gut tells me Sasha moves to the blue brand. But don't bank on that.
The Balor Club moves to Tuesdays?
Finn Balor is the biggest talent that WWE seems to have no plans for. Fans want the leader of the Balor Club to head to Tuesday nights with his friends Anderson & Gallows in tow. All three seem to have done all they can on Raw. Putting them in the hunt for the WWE Title and SmackDown Title respectfully provides fresh match-ups fans are clamoring for.
Mid-card titles switch places.
It wouldn't surprise me to see Mahal on Raw and Rollins on Smackdown, though I feel like "Monday Night Rollins" is staying put. Rollins and his feud with Miz might move to the blue brand. Which could leave room for Balor on Raw?
The Queen comes back to Raw
The tweet says it all.
#SuperstarShakeUp #Raw ? pic.twitter.com/2NC45XITVD

— Charlotte Flair (@MsCharlotteWWE) April 16, 2018
Keep Daniel Bryan Away From Anyone You Want To Be Popular
Roman Reigns and Braun Strowman, in particular, do not need to be on the same roster as Daniel Bryan. I suspect he will remain on Smackdown and be involved in a WWE title feud. If he goes to Raw anything but an instant Universal Title shot will cause a revolt we haven't seen since 2015. The Superstar Shakeup has to be used as a chance to give Daniel Bryan some fresh and dream match-ups. Putting against Braun Strowman instantly kills all the build you've put upon the Monster Among Men. We've already seen what happens when Daniel goes against Roman as well.
Don't forget to sign-up for the newsletter and get the latest news!
What do you think of the Superstar Shakeup? Let us know.
Your Thoughts
Sign Up for a daily briefing from your #1 source for wrestling intel