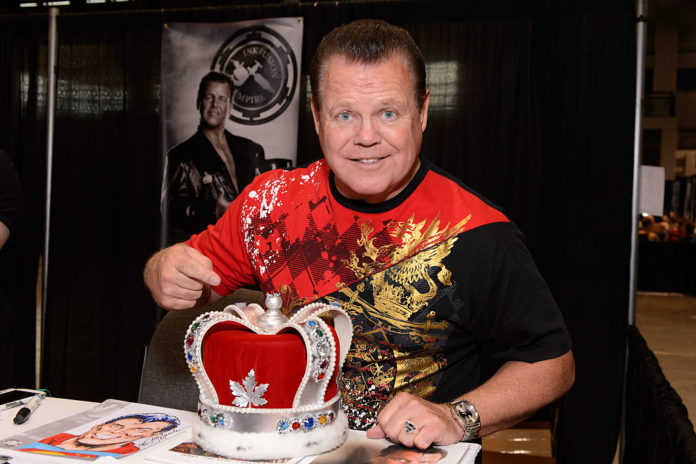 Memphis and WWE legend Jerry "The King" Lawler has battled several ailments over the last few years. First heart failure live on Raw and now we learn that the King suffered a stroke three weeks ago. Lawler went into more details on his "Dinner with the King" podcast.
Via WrestleZone:
Lawler suffered a stroke at his home on March 21 while with his fiance, Lauryn, and was unable to speak for almost three days. His face was also sagging on one side. He then woke up on Saturday morning 100% better and able to continue his normal routine of wrestling and making appearances, including WrestleMania.

The King talks about what exactly happened and why the doctors were shocked he made such a quick recovery. Also, he talks about only telling a few WWE personnel, including Kevin Dunn, Vince McMahon, and Triple H. Lawler was surprised it was able to stay a secret for the past three weeks
Lawler is a true natural marvel, not only did he get back to health in no time, he still wrestles to this day. He wrestled this past WrestleMania weekend and was still throwing fireballs!
Lawler is one of the most durable wrestlers in history. He just last year wrestled for the NWA title after for competing for it nearly 40 years ago. He is a wrestling genius and has wrestled at a high level for decades. Here's Jim Cornette talking about the genius of Lawler and how he was able to draw huge crowds in Memphis for decades.
Jerry Lawler is my favorite wrestler of all time. He's so good in and out of the ring and can rope the fans still at this age.
I've never been able to see him wrestle in person, and I doubt I will. But thankfully there are hundreds of matches on YouTube and the WWE Network where you can watch every era of the King. May I suggest his 80s CWA work against Hot Stuff Eddie Gilbert:
Are you a fan of Jerry Lawler? Share your thoughts in the comments below.
Your Thoughts
Sign Up for a daily briefing from your #1 source for wrestling intel