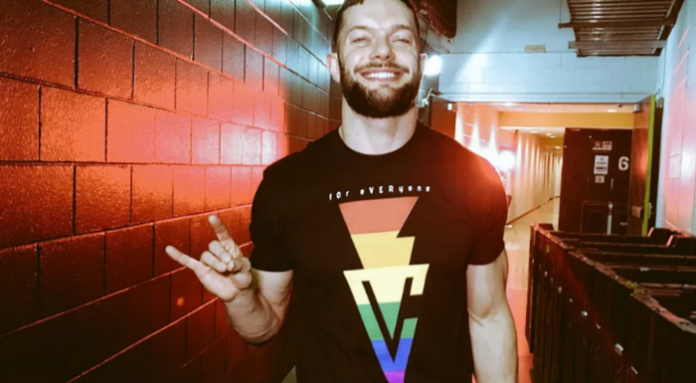 It's no secret that Finn Balor supports the LGBT community. He's been tweeting for months that Balor Club is "for everyone," and WWE recently introduced a new rainbow Balor Club shirt which benefits GLAAD.
WWE is proud to announce that a portion of sales from my new shirt will benefit @GLAAD. Everyone deserves to be accepted & included! #BalorClubforEveryone https://t.co/8AzHINbhNr

— Finn Bálor forEVERYone (@FinnBalor) April 2, 2018
But Balor and WWE weren't satisfied with just that. At WrestleMania 34, Balor made his entrance surrounded by LGBT fans, and he wore rainbow gear himself.
Awesome! Finn Balor's entrance included LGBT+ fans of New Orleans 🏳️‍🌈 #wrestlemania #wwe #finnbalor #lgbt pic.twitter.com/kMy8r6Z5Db

— P.J. Guinto (@theyellowstereo) April 8, 2018
As you might expect, this was a significant moment for many fans.
i've been watching wwe for 2+ decades and for so much of that time it would be just UNTHINKABLE for a wrestler to have something as simple as that finn balor LGBTQ pride entrance, and it makes me a tad emotional to see it now

— the great muter (@BossMoz) April 8, 2018
they're speaking about the lgbt community on wrestlemania. I really never thought I would ever witness this oh my god I love finn balor so much

— *⋆˚ becca ⊹ (@fIuffychapman) April 8, 2018
An LGBT positive wrestler just entered #wrestlemania with a pride flag on his tights and got an overwhelmingly positive reaction. Sitting my in the crowd, I'm legit fighting back tears. #wwe #balorclubforeveryone Thank you @FinnBalor

— Chris Ellis (@RealChrellis) April 8, 2018
@FinnBalor just made his entrance in the opening match of #WrestleMania34 through a New Orleans #LGBT group. His kneepads, tights, & boots have rainbow highlights. I've never seen LGBT represented in such a positive way in WWE. What a great way to use his platform. #WrestleMania pic.twitter.com/nPCPkUphMh

— Ed Grady (@edgrady) April 8, 2018
Never in my years did I think @WWE would have positive visibility for the #lgbt community. Thank you @FinnBalor and @WrestleMania #wrestlemania

— Tatum McSwain (@tatumness) April 8, 2018
Indeed, WWE has come quite a ways since Billy and Chuck.
There's some speculation that Balor's WrestleMania entrance is part of an "empowered gay man" character being pushed behind the scenes by Stephanie McMahon, but that doesn't seem likely. Balor has long been supportive of the LGBT community on social media, and it hardly seems like a coincidence that he ramped up his "Balor Club for everyone" campaign around the same time that his former Bullet Club teammate Kenny Omega reformed the Golden Lovers with Kota Ibushi. Whether intentional or not, the saga of the Golden Lovers is the most prominent LGBT storyline in all of wrestling. It seems like the resurgence of Omega and Ibushi was Balor's motivation to get WWE to declare their support for LGBT fans and the wider community.
Imagine all the people living life in peace…💙💚💛🧡❤️
BálorClub fOreVERyone pic.twitter.com/poJjUhZEfp

— Finn Bálor forEVERYone (@FinnBalor) April 9, 2018
Wrestling fans are often stereotyped as uneducated white men, but the reality is that wrestling fans come in all shapes, sizes, colors, and types. Balor is simply recognizing that, and it's about time someone did.
What did you think of Finn Balor's WrestleMania entrance? Share your thoughts below!
Your Thoughts
Sign Up for a daily briefing from your #1 source for wrestling intel