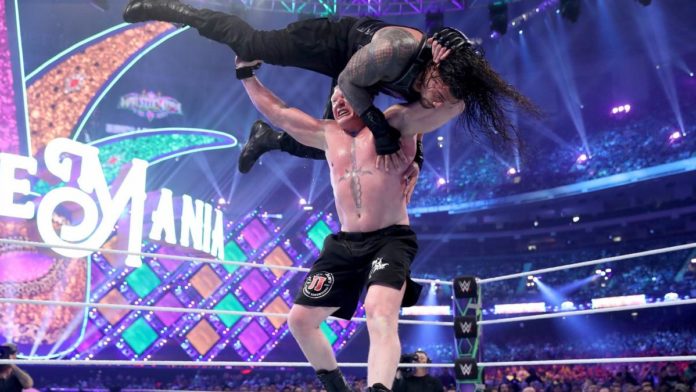 WrestleMania 34 is a night that will go down in history as one of the most polarizing events in WWE history. Some moments were outstanding, while others were bizarre and downright bad. One of these bizarre-bad moments was Brock Lesnar's shocking retention of the Universal Title. Lesnar defeated Reigns in brief and bloody affair that will go down in history more for the crowd being completely checked out than for what actually happened in the match. Despite all indications telling us that Lesnar would lose and be on his way out of WWE, The Beast retained. But why? The reason has stared us in the face for months and involves the Greatest Royal Rumble event later on in April. This release from WWE explains everything.
WE Chairman & CEO Vince McMahon announced today that Universal Champion Brock Lesnar has re-signed with WWE. Lesnar's next appearance is scheduled for the Greatest Royal Rumble event, where he will compete against Roman Reigns in a Steel Cage Match for the Universal Title at the King Abdullah Sports City Stadium in Jeddah, Saudi Arabia on Friday, April 27, at 7 p.m. AST.
Not a month from now, WWE's "Greatest Royal Rumble" will look to blow the doors off this year's WrestleMania and Royal Rumble with a massive card that is by far the WWE's biggest overseas event in history. Besides the 50-man Rumble and the Lesnar-Reigns rematch, Triple H will face off against Cena and the Intercontinental Title will be defended in a ladder match featuring Balor, Miz, Rollins, and the returning Samoa Joe.
But how will the crowd react? More in line with what WWE wants. Foreign crowds, particularly those in Asia and the Middle East are more traditional when it comes to wrestling. They will cheer the good guys and boo the bad guys. Despite his cold reception by "smart" fans here, Reigns remains a popular figure for WWE on a global basis and among young fans. So, expect him to get the belt at the Saudi event.
Or perhaps not? WWE may continue to swerve us. We don't know what Lesnar's contract stipulates. Perhaps he just signed a one-match deal. Perhaps he's in for another few years. Does that mean we'll get another few years of Lesnar part-timing and trolling Sandra? We'll see!
What do you think of the Greatest Royal Rumble? Share your thoughts in the comments below.
Your Thoughts
Sign Up for a daily briefing from your #1 source for wrestling intel