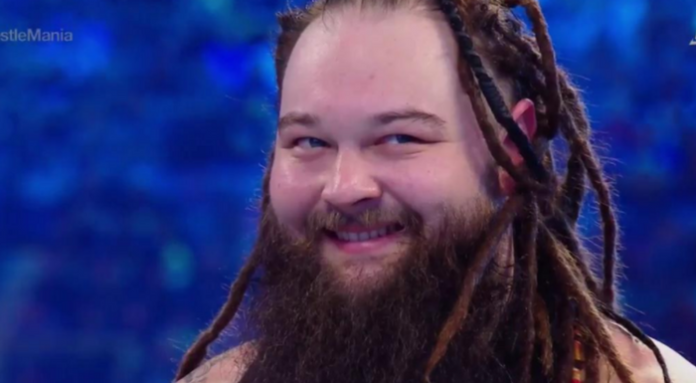 Something DELIGHTFUL happened during the WrestleMania 34 kick-off show: Bray Wyatt returned – AND helped Matt Hardy win the Andre the Giant Memorial Battle Royal!
A DELIGHTFUL assist from @WWEBrayWyatt makes #WOKEN @MATTHARDYBRAND the 2018 #AndreTheGiant Memorial Battle Royal winner! pic.twitter.com/lFqCzGvBKw

— WWE WrestleMania (@WrestleMania) April 8, 2018
Bray Wyatt hasn't been seen since Hardy threw him into the Lake of Reincarnation during the Ultimate Deletion nearly a month ago, so his return was quite the surprise. It was even more surprising that he helped Hardy win – but the WWE Universe is totally on board with the turn.
Bray Wyatt as a face has the potential to be massive. Much needed change. #WWE #WrestleMania

— Scott Fishman (@smFISHMAN) April 8, 2018
A Bray Wyatt/Matt Hardy alignment is something I'm far more happy about than I ever thought I'd be. #WrestleMania

— Adam Pacitti (@adampacitti) April 8, 2018
Matt Hardy won the Battle Royal and formed an alliance with Bray Wyatt. This is the best. I still have six hours to go. I can't handle this!!!! 🤠🤠🤠🤠🤠🤠😳😳😳😳😳😳😳 #WrestleMania

— Kenny McIntosh (@KennyMc1985) April 8, 2018
Bray Wyatt with Matt Hardy is a GREAT sight. I hope they pair them for the Tag Team Titles. That could easily resurrect Bray Wyatt's career #WrestleMania

— JD (@JDfromNY206) April 8, 2018
This was a fantastic twist on WWE's part. Fans weren't expecting a lot from the Andre the Giant Memorial Battle Royal, as it's proven to be nothing much more than a time-filler that gives little-used Superstars something to do on the grandest stage of them all. But Wyatt is beloved by fans, and he's been stifled by terrible booking for a long time. An alliance with Hardy could go a long way to revive his career, and the colorful characters of Woken Matt Hardy and the Eater of Worlds are a natural fit.
The question is: what does this mean for Jeff?
Be sure to follow Ringside Intel on Twitter for all your WrestleMania 34 breaking news! 
Your Thoughts
Sign Up for a daily briefing from your #1 source for wrestling intel