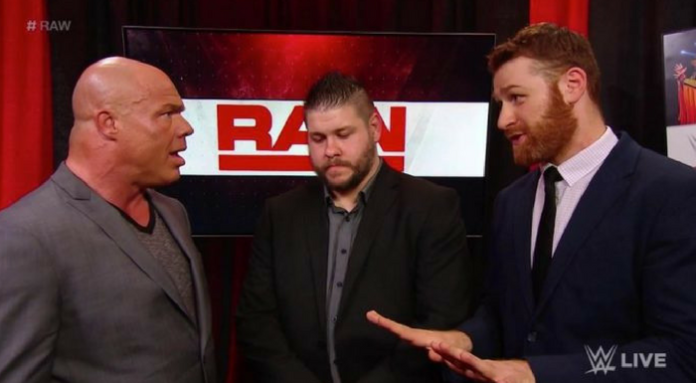 The Raw after WrestleMania is always the biggest non-PPV show of the year, and last night's episode did not disappoint. There were call-ups and surprise returns galore, but perhaps the most shocking moment came when Raw General Manager Kurt Angle took a shot at his former employer on-air.
Moments after Bobby Lashley made an unexpected return, the still-unemployed duo of Kevin Owens and Sami Zayn showed up in Angle's office to beg for a job. But Angle informed them there wasn't room on the roster for both of them before casually dropping the line, "I hear that TNA is hiring."
Kurt Angle is in the TNA Hall of Fame #RAW #RAWAfterMania pic.twitter.com/E4AnIMrCri

— Nick Piccone (@nickpiccone) April 10, 2018
In the words of Ron Simmons: Damn!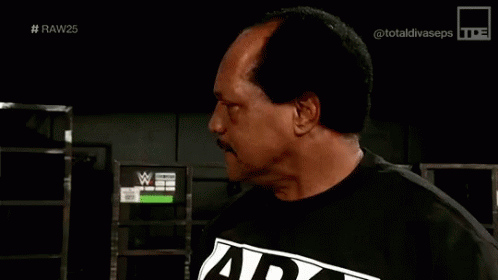 That was a nuclear level burn on the part of WWE – and the fans couldn't handle it.
THEY JUST FOLLOWED UP BOBBY LASHLEY'S DEBUT WITH KURT ANGLE TELLING SAMI AND KEVIN THAT TNA IS HIRING AND I'M SCREAMING

— Derek Montilla (@Cap_Kaveman) April 10, 2018
Induct Kurt Angle into the TNA Hall of Fame again 😂😂😂. What a line.

— Wrestling Memes (@Wrestling_Memes) April 10, 2018
Kurt Angle: I hear TNA is hiring.

ALL of us:

#RAW pic.twitter.com/IKH2GYDC7R

— Adam Lucidi (@adamlucidi) April 10, 2018
Kurt Angle, tell me you didn't just say that.#RAW #TNA 😂 pic.twitter.com/nwUXncP6AG

— Greg Morgan (@GoodMicWork) April 10, 2018
Kurt Angle just absolutely ruined Sami Zayn and KO…

"I heard TNA is hiring!" 😂😂😂#RAWAfterMania

— Colt – Wrestling Coverage (@WWEColt) April 10, 2018
WOW the first official mention of TNA in WWE and it's Kurt angle burying it.#WWERaw

— Rassslin (@RassslinRantin) April 10, 2018
Kurt Angle's ''I hear TNA are hiring'' works on so many levels

They've not been called TNA in over a year and of course they're hiring, WWE keeps on signing their best guys pic.twitter.com/vn2gM6lZ0i

— MaffewBotchamaniaGuy (@Maffewgregg) April 10, 2018
Of course, TNA didn't let the slight go unanswered. But their response was, in a word, passive.
#WeAreIMPACT pic.twitter.com/Rk2nO9BCQV

— IMPACT (@IMPACTWRESTLING) April 10, 2018
While TNA is definitely having trouble holding onto its talent ("Oh it's true… it's damn true!"), the fact of the matter is that many veteran wrestlers have used TNA as a building block to bolster their careers before returning to WWE, including Christian, Kurt Angle, Drew McIntyre, EC3, and of course Matt Hardy. Furthermore, we can't ignore the fact that AJ Styles, a name synonymous with TNA, is the current WWE Champion, and there are a handful of other former TNA wrestlers who have made a huge splash in WWE and NXT, including Samoa Joe and Zelina Vega. Indeed, the working relationship between WWE and TNA has never been better.
Then again, that could just be because Vince knows TNA is barely keeping its head above water.
What did you think of Kurt Angle's TNA line on Raw? Did you like it or think it was inappropriate? Share your comments below!
Your Thoughts
Sign Up for a daily briefing from your #1 source for wrestling intel