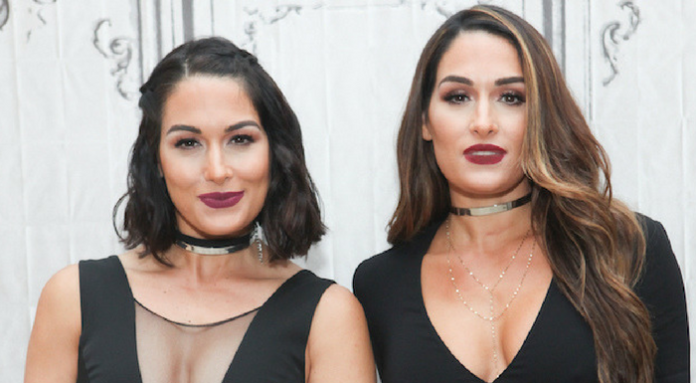 The Bella Twins might be semi-retired from in-ring competition, but that doesn't mean they can't engage in a friendly rap battle with actors who play wrestlers on TV.
As reported by Squared Circle Sirens, several of WWE's female Superstars will be taping an episode of the TBS show "Drop the Mic" on March 18th, where they'll battle actors from the popular Netflix series "GLOW":
Nikki Bella, Brie Bella, Carmella, and Alicia Fox will represent WWE, while Kate Nash, Jackie Tohn, Sunita Mani and Britney Young will appear on behalf of the Netflix show.

The episode will air as part of the forthcoming second season; the specific airdate has not yet been revealed.
Appropriately, the theme of the episode is "Pro vs. GLOW."
I'll be honest: I hadn't heard of "Drop the Mic" prior to learning this news. But a quick Google search reveals that it evolved from a popular segment on "The Late Late Show with James Corden" and is hosted by Method Man and Hailey Baldwin.
I'll also say that I expect the "Pros" to win this battle pretty handily. After all, Nikki Bella is engaged to none other than the former Doctor of Thuganomics, who will undoubtedly give her a crash course in "basic thuganomics." And Carmella and Alicia Fox could totally pick up some pointers from Bo Rida.
Besides, WWE Superstars already have tons of practice talking crap about their opponents – cutting a good promo is one of the primary facets of being a successful pro wrestler. All they have to do is learn to rap their insults, and they've got this competition in the bag.
Do you think Nikki Bella can live up to her fiance's rap legacy? Share your comments below!
Your Thoughts
Sign Up for a daily briefing from your #1 source for wrestling intel