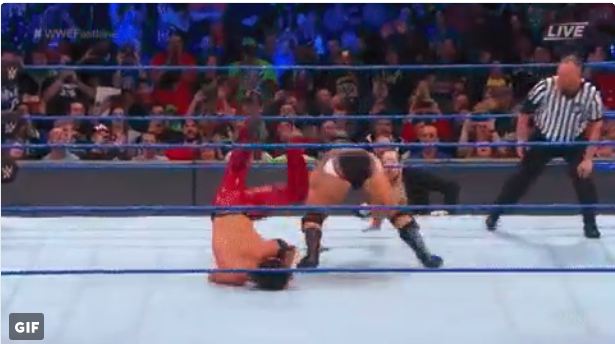 Happy Rusev Day!
We're in the Fastlane on the Road to Wrestlemania and it all starts (or ends?) at Fastlane. The first match on the card was Royal Rumble Winner Shinsuke Nakamura against Rusev. How dare they make Rusev wrestle on Rusev Day of all days!
The match was some straight fire, but the scariest/awesomest/WTF moment came when Rusev kicked Nakamura's spirit completely out of his body. Nakamura's fall and landing have many fans thinking the Artist had danced onto the next plain. Check this out.
YOOOOO HES DEAD BRUHHHH💀💀 pic.twitter.com/zdbw7pbZc0

— WrestlinGifs (@WrestlinGifs) March 12, 2018
Naturally, people reacted to this attempted murder in an appropriate fashion.
Jummmmmmped off the couch after that kick. Jesus

— Michael (@mikeVSphilly) March 12, 2018
JESUS CHRIST

— Sports Entertainment Mike (@TheFrayMovement) March 12, 2018
WHAT A KICK BY RUSEV! GOOD GOD! #WWEFastlane

— Fightful Wrestling (@FightfulWrestle) March 12, 2018
That sell and nearfall from Nakamura…Jesus

— Daily DDT (@FanSidedDDT) March 12, 2018
How is Nakamura not dead? pic.twitter.com/oOSFRVfbIq

— The X Report (@Raven_XReport) March 12, 2018
Pretty sure Nakamura is dead after that kick.

— Meta4 the Great (@ThatBlackKidV) March 12, 2018
NAKAMURA DEAD.

— #MeelzLive ✊🏾 (@MeelzTV) March 12, 2018
I thought Nakamura just broke his neck holy moly

— Saul Berenson (@Hlee3D) March 12, 2018
Thankfully Nakamura is just an incredible wrestler who takes falls that look dangerous that really aren't. He got up from that and knee'd Rusev's face off for the win.
KINSHASAAAAAAA!!!!! @ShinsukeN WINS!!! #WWEFastlane pic.twitter.com/9AAGs3qey5

— Italo Santana (@BulletClubItal) March 12, 2018
Share your thoughts on this in the comments below. 
Your Thoughts
Sign Up for a daily briefing from your #1 source for wrestling intel