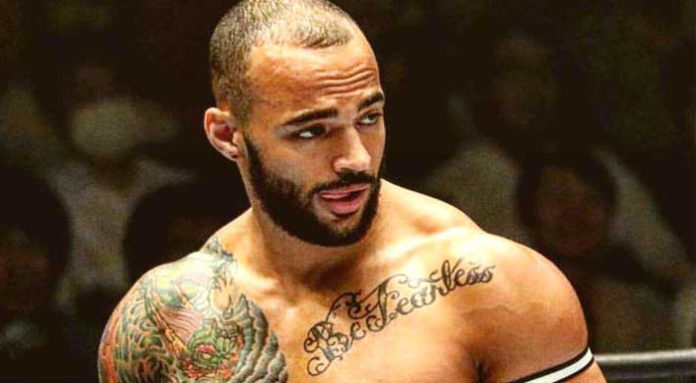 Ricochet is set to start a long and successful career in the WWE, but what should we know about this super indie star? Below, you can find five interesting facts about Ricochet, so be sure to read on if you want to get more familiar with the man dubbed the Future of Flight.
He Won "Best of Super Juniors" in New Japan
Winning the Best of Super Juniors can make a big difference in your career as a wrestler. The prestigious tournament has been around since 1988 and has been won by other big stars such as Eddie Guerrero and Finn Balor. It is New Japan's cruiserweight high-flying showcase. So, this certainly sets the right tone for Ricochet and his future career in the WWE.
He Received a Five-Star Match Rating
Anyone who is familiar with wrestling knows that it is tremendously difficult to get a five-star match rating from Dave Meltzer of the Wrestling Observer. However, Ricochet managed to get a hold of that honor before the age of thirty! His five-star match was a tag team match in Pro Wrestling Guerrilla (PWG) with Will Ospreay and Matt Sydal, going up against the Young Bucks and Adam Cole. Since Cole is also in NXT, I cannot wait what we will see when the two put on a match against one another.
His Favorite Wrestling Superstars
Every wrestler has his inspiration. Those who inspired them to become wrestlers and pave their way to the grandest stage of them all. For Ricochet, these wrestlers are Eddie Guerrero, Rey Mysterio, and the Rock. I must say, the man has impeccable taste.
He Has a Lot of Wrestling Experience
The WWE undoubtedly made an outstanding acquisition with Ricochet, because the man has an extensive track record. Ricochet's wrestling experience spans over at least fifteen years, which indicates he has been in the ring since his fourteenth birthday!
He Was a Big Lucha Star
Most people are already aware of this, but Ricochet was a major star on Lucha Underground. However, he did not wrestle under the name Ricochet, but under the name Prince Puma.
While the identity of Prince Puma is a well-guarded secret, many claim Prince Puma is indeed Ricochet. When comparing tattoos, it is clear that Prince Puma and Ricochet have a mirroring tattoo spread. Also, Prince Puma left Lucha Underground just before it was revealed Ricochet would make his NXT debut. Coincidence? I think not!
Which fact surprised you most? Let us know in the comment section below.
Your Thoughts
Sign Up for a daily briefing from your #1 source for wrestling intel