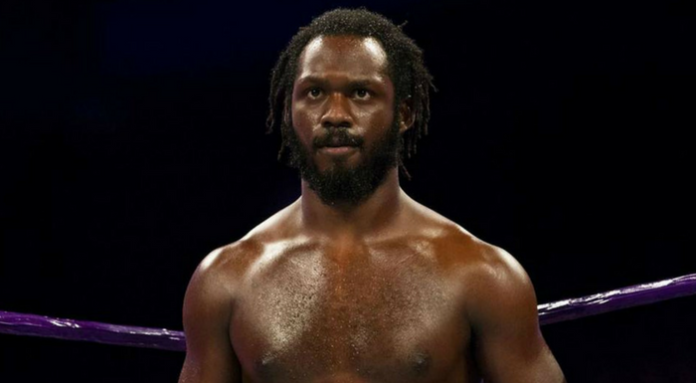 Less than a month after leaving WWE, former Cruiserweight Champion Rich Swann announced on Twitter that he's retiring from pro wrestling after finishing up his remaining independent booking dates.
After all the bookings ive taken im so scared to step in the ring but i cant wait lol. But after there done i will be retiring. Thank you for taking the chance on my name

— Richard Swann (@GottaGetSwann) March 8, 2018
Damn i lost the dream job. Well even though im gonna be blown up as fuck i cant wait to wrestle again

— Richard Swann (@GottaGetSwann) March 8, 2018
Swann was suspended by WWE in December after being arrested following a domestic violence incident with his wife, pro wrestler Su Yung. Swann was subsequently cleared of all charges, but he and WWE ultimately decided to go their separate ways.
Swann had been laying relatively low following his release. However, one day before announcing his impending retirement, he tweeted his dissatisfaction with independent bookers allegedly booking a "bank robber" over him.
Oh we cant a accused person on our show….oh lets get this bank robber on lol

— Richard Swann (@GottaGetSwann) March 7, 2018
The "bank robber" alluded to in the tweet is CZW staple Nick Gage, who in April 2011 was sentenced to five years in prison after pleading guilty to second-degree bank robbery. Gage violated parole in 2015, but he served his time – and he didn't appreciate Swann calling him out.
if you got something to say just say it bud you aint gonna hurt my feelings cuz i dont have any but if you got a problem we can definetly solve it real quick let me know @GottaGetSwann MDK https://t.co/vJpODjFlxJ

— Nick FN Gage (@thekingnickgage) March 7, 2018
As my colleague Hunter Patterson pointed out, it's probably not a good idea to start a Twitter fight with a guy who signs all his tweets with the name of the prison gang he joined.
The rest of Twitter thought it was a poor choice on Swann's part, too.
Delete this lol. The internet will have a field day 😐

— Mega Ran (@MegaRan) March 7, 2018
Bruh pic.twitter.com/8hx2GKxc0m

— TheBattProductions (@TheSAPeacock) March 7, 2018
Instead of trying to bring down someone who's actually trying to better himself, how about you worry about yourself and focus on being a better person.

— Jeason Thomas (@Shatterphoenix) March 7, 2018
— james mckenna (@chillhartman) March 7, 2018
It's true that Gage is a convicted felon and Swann is not. However, the reality is that, even without a conviction, society looks down far more on domestic violence and abuse than it does bank robbery – particularly in today's social climate. Unfortunately, if he were to continue wrestling, Swann's arrest would likely follow him the rest of his career.
That being said, WWE has proven time and time again that they're big on redemption. If Swann continues to lay low and work on himself, who knows – he could be back in a WWE ring one day.
In the meantime, at least he can take solace in the fact that his sins are not the worst of WWE's disgraced ex-cruiserweights.
What are your thoughts on the saga of Rich Swann? Share them below.
Your Thoughts
Sign Up for a daily briefing from your #1 source for wrestling intel