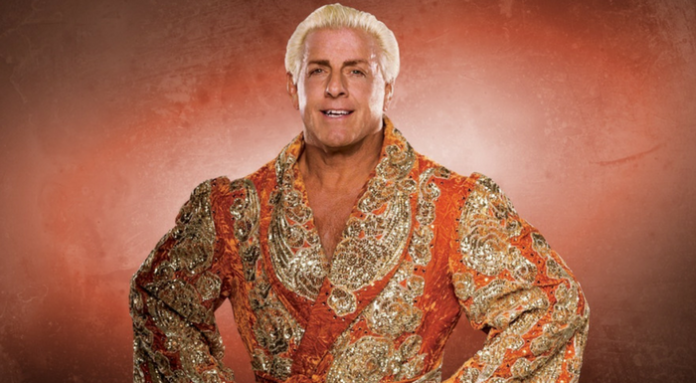 Somehow Ric Flair, a role model to wrestlers and rappers alike, has gone his entire career without appearing in a movie – until now. As reported by The Wrap, Flair has signed on to join R-rated feature film dramedy Uncle Steamroller & Champion Rabbit.
WOOOOO! @RicFlairNatrBoy is set to style and profile his way to the silver screen in "Uncle Steamroller & Champion Rabbit"! https://t.co/MhFXSNnznR

— WWE (@WWE) March 8, 2018
The film, written by playwright Brian Kawalchuk, kind of sounds like a more comedic version of The Wrestler:
"Uncle Steamroller & Champion Rabbit" follows a dejected Iraq war veteran who struggles to regain his pro heavyweight wrestling championship while being managed by a failed motivational speaker.

Flair is set to play the president of the World Wrestling Union, a Las Vegas syndicate that owns the wrestling tour on which the titular Uncle Steamroller attempts to stage his comeback.
Provided that Uncle Steamroller & Champion Rabbit makes it out of development – no easy feat in Hollywood – it will be Flair's feature film debut. For Flair's part, he said that he's excited about "the wonderfully written script" and finds it "very entertaining."
"The edgy sense of humor is great, but the story also has a good heart. I'm expecting the inspirational story line will appeal to fans that extend beyond my loyal core wrestling base, and I am seriously looking forward to getting this film in front of worldwide audiences. Wooooooooooooooooo!"
Flair will also reportedly executive produce the film alongside his fiancee, Wendy Barlow, and Kowalchuk.
This is exciting news. I, for one, don't think there are nearly enough (good) movies and TV shows out there about wrestling. The premise of Uncle Steamroller & Champion Rabbit definitely has promised to be another hit like The Wrestler and GLOW, and the presence of Flair will make it all the more legitimate.
Do you think there should be more movies and shows about wrestling? Would you go see Uncle Steamroller & Champion Rabbit? Share your thoughts and comments below! 
Your Thoughts
Sign Up for a daily briefing from your #1 source for wrestling intel