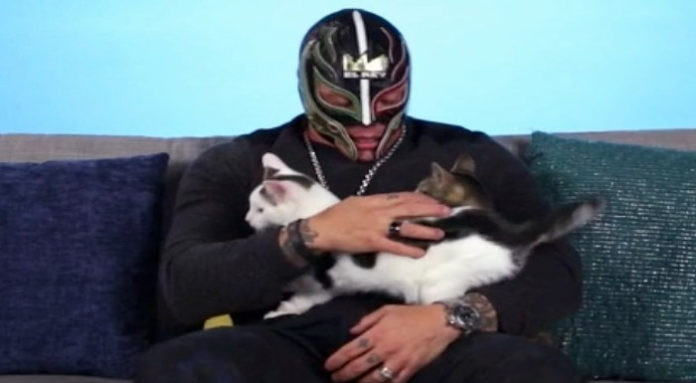 Just when I thought I could not love Rey Mysterio any more than I already do, he surprises me once again with the cutest video on the planet!
Cat Lover!
Being a cat person myself, it is so heartwarming to see Rey play with these kittens in the video. During an interview, Rey got surprised with two of the cutest rescue kittens. Turns out Rey is not just an amazing wrestler, he is also a cat lover!
Heart of Gold
There are many reasons to love Rey Mysterio, not only because of his impeccable ring ability but also because of his heart of gold. Rey Mysterio has been involved in hundreds of charities over the years but is also known to surprise his fans on regular basis. Here is one of my favorite moments.
Just as adorable as the kittens if you ask me…
Rey Mysterio Injury Update
There have been loads of rumors surrounding Rey Mysterio and a return to the WWE. Ever since his return at the Royal Rumble, which made me crawl on my coffee table, by the way, fans have been excited for a return of the high-flyer.
It was expected that Rey Mysterio would fight John Cena at WrestleMania, but a bicep injury now puts that match on hold. However, it would seem the WWE and Rey Mysterio are still working at his return.
A recent injury update states that Rey Mysterio's injury is not as bad as first believed. He does not have a full bicep tear, which could mean he could be ready in time for WrestleMania 34.
One thing is stopping a full return for Rey Mysterio, more specifically the fact that he does not want to be signed full time. I don't blame him though, because the WWE schedule is not exactly known to be good for WWE superstars. So, I ask you this: if Dolph Ziggler gets a veteran deal, why can't Rey Mysterio? Either way, he has my vote to add the kitten to the 619 finisher!
Should Rey Mysterio add a kitten to his 619 finisher? Do you think he will return to the WWE at WrestleMania? Put in your opinions below!
Your Thoughts
Sign Up for a daily briefing from your #1 source for wrestling intel