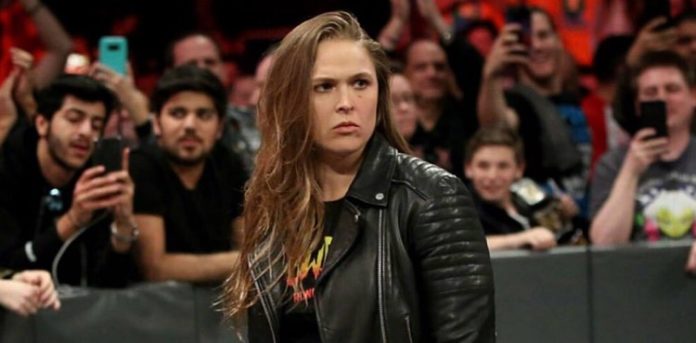 Contrary to what WWE previously reported, Rousey will NOT be on every Raw until Wrestlemania. She missed the March 12th edition and is not scheduled to appear again until the "go home" show April 2nd in Atlanta. WWE deleted an article on their website announcing the appearances. The real reason for her absence is much blander than any salacious Internet rumor.
Here are more details via PostWrestling.com:
POST Wrestling was informed by one person inside WWE that the article was not given final approval and ran on the site. There were discussions about using Rousey anyway as there was concern over the fact they were already doing a "no show" storyline involving Brock Lesnar, but ultimately the decision was to keep Rousey off of television.
To be honest, I didn't even notice Rousey wasn't on Raw. The episode was so good and moved so quickly. Also, Rousey doesn't need to be here every week. The story is told. There isn't much more that needs to be done to create the story around her match against Triple H and Stephanie McMahon. I imagine she is using this time training and preparing herself for the big moment. Now is the time WWE can build up the other matches on the card. Rousey is still a special attraction and should be treated as such.
The real reason Rousey missed Raw, as I said earlier, is pretty boring. The story, in context, makes perfect sense. It wasn't for anything bad, and it was actually WWE related.
via ProWrestlingSheet:
Sources tell us Ronda was "incorrectly advertised" by WWE.com because the newly signed Superstar was scheduled for medical testing in Pittsburgh on Monday, not Raw in Detroit.

Our sources stress that this was NOT a case of Rousey skipping the show for another obligation and that she truly wanted to be there, but couldn't due to the testing.
There you have it. No alarm bells. Just some miscommunication and testing to make sure that Ronda is prepared for her big Wrestlemania debut. Rousey is committed as ever to WWE. This is her life-long dream. She's still preparing for this role.
What do you think about Ronda Rousey? Check out more of our coverage of her time in WWE here.
Your Thoughts
Sign Up for a daily briefing from your #1 source for wrestling intel