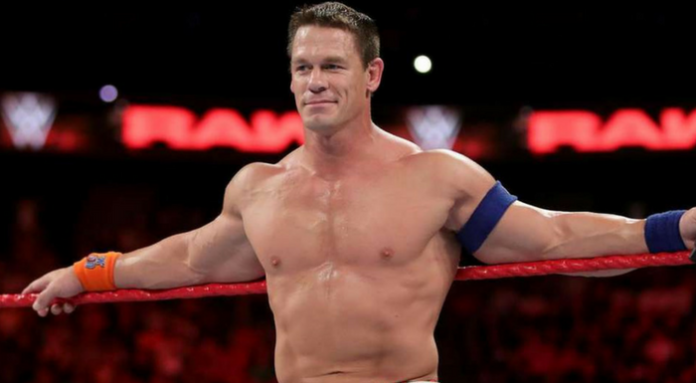 In case you're unaware, John Cena runs a very strange Instagram page on which he posts seemingly random images "without explanation, for your interpretation."
That being said, his latest post doesn't require much interpretation at all. Behold:
Yes, that is a crudely drawn cartoon John Cena poking the disembodied head of the Undertaker with a stick.
As we all know, two weeks ago Cena challenged the Undertaker to a match at WrestleMania 34. But 'Taker has yet to respond, and Cena – who is desperate for a match on the grandest stage of them all – is undoubtedly getting impatient, which is led him to post the above image. What I want to know is if Cena found it on the interwebs or if he made it himself. Honestly, I wouldn't put the latter past him, but I doubt he has the time to sit around making crude memes.
But this isn't the first time Cena's called out Undertaker on Instagram. He also posted a picture of rookie 'Taker last week.
Did you know that? I didn't know that.
Anyway, if you're thinking that Cena's wasting his time goading the Undertaker on Instagram because the Phenom doesn't have an Instagram account, you might be right. Or, you might be wrong. Because 'Taker's wife, Michelle McCool, does have an Instagram account – and she follows Cena.
What does that mean? Admittedly, probably nothing. But with Kid Rock being inducted into the WWE Hall of Fame this year, a lot of fans think that Undertaker could return as American Bad Ass/Big Evil 'Taker. And if Biker 'Taker does make a comeback, I wouldn't be too surprised to see McCool in tow.
But in the meantime, we'll just have to keep interpreting Cena's posts.
Do you think the Undertaker will accept John Cena's challenge? And will he accept it as the Phenom or the American Bad Ass? Share your thoughts and comments below!
Your Thoughts
Sign Up for a daily briefing from your #1 source for wrestling intel