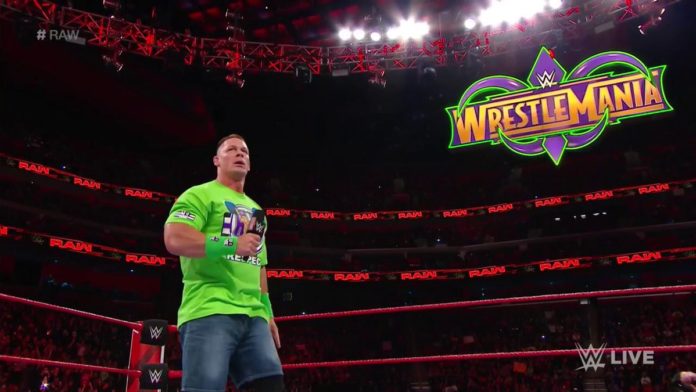 John Cena's mid-life crisis has been one of the most Dad-tastic WWE storylines in recent memory. The 40-year-old is looking at the twilight of his career, and "Big Match John" just can't seem to build his own path to Wrestlemania.
As preposterous as this is, Cena has been on a bit of losing streak recently when it comes to major matches. The rumors behind this were that Cena was angling for a match with the Undertaker. Cena, however, deliberately and loudly dismissed the notion with so much forced empathic energy it read like a guy claiming that through tears that the break-up was "mutual." Whatever you say, John.
Cena's "last chance" to make it to Wrestlemania was the 6-Pack challenge for the WWE title at Smackdown's Fastlane. But John Cena lost and the man was NOT happy about it.
when ur chilling with ur friends and they feel the need to Snapchat everything pic.twitter.com/tScb8jiSLq

— WrestlinGifs (@WrestlinGifs) March 12, 2018
So, that meant we got a sappy fake retirement speech from Cena on Raw, right? But instead…
John Cena went out into the crowd and drank a beer.
Just your average @WWE fan. Nothing to see here. #RAW @JohnCena pic.twitter.com/tJ0lWiGXpV

— WWE Universe (@WWEUniverse) March 13, 2018
And then he said this.
Maybe he shouldn't have said it… but, he did.@JohnCena just CHALLENGED THE #UNDERTAKER to a match at #WrestleMania! #RAW pic.twitter.com/Usid6p5kvK

— WWE (@WWE) March 13, 2018
At first, it seemed like Cena was joking. But his promo called the Undertaker a "coward" and even called him out for posting exercise picks on his wife's Instagram.
.@JohnCena has officially gone rogue…

He IS challenging The #Undertaker to a match at @WrestleMania! #RAW pic.twitter.com/BXzIyJI5RW

— WWE (@WWE) March 13, 2018
This match looks like it is actually happening. I wasn't on-board with it. Until this segment from John Cena.
Are you excited for John Cena and the Undertaker? Share your thoughts in the comments below.
Your Thoughts
Sign Up for a daily briefing from your #1 source for wrestling intel