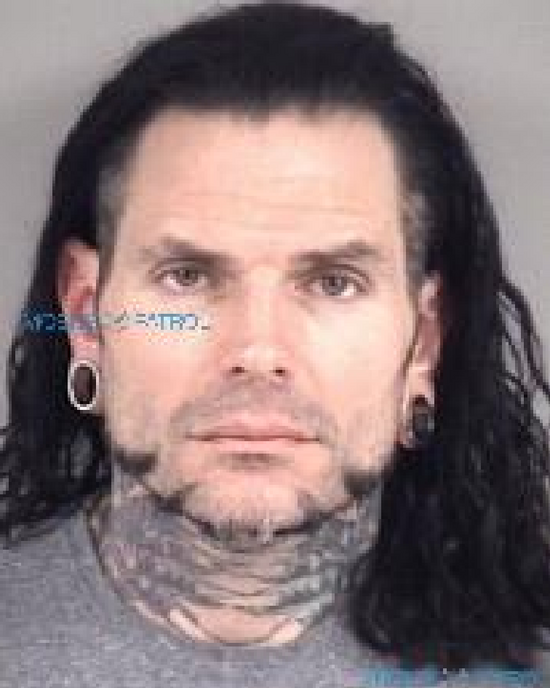 Jeff Hardy was arrested Saturday night near his home in North Carolina for Driving Under the Influence of Alcohol. Hardy allegedly ran his car off the road.
Here's more via PWInsider:
Hardy, 40-years old, was arrested at 10:20 PM on 3/10 at 4545 Concord Pkwy South, according to the Cabarrus County Sherriff's Office. He was released a little over an hour later at 11:24 PM. No details have been released yet on the circumstances leading to the arrest.

Hardy has also been hit with a 30 day pretrial revocation of his driver's licence, which means that currently, he cannot legally drive. That is a normal procedure in the State following an arrest of that nature. He is slated to appear in Cabarrus County Court on 4/16 in regard to his arrest.
Wrestling Inc. has a further breakdown of the incident
The accident occurred around 8:11 pm on Concord Parkway. Hardy ran off the roadway and struck a guardrail, which caused his car to spin out into the middle of the right northbound lane.
Will Jeff Hardy Be Suspended Or Fired?
It seems unlikely that WWE will punish Hardy for this incident. WWE policy only dictates what talent does during and immediately before (24 hours) a scheduled performance. Jey Uso was arrested on similar charges in January and faced no sort of punishment from WWE. He and his brother continued as champions and as top-stars on Smackdown Live.
Hardy is currently out of action after shoulder surgery but has been cleared to return. Whether or not this will affect his return remains to be seen.
Jeff has struggled with drug and alcohol issues in the past and served a brief jail sentence for drug possession in 2011. His struggles with addiction have been chronicled in storylines both in WWE and TNA. Recently, however, Jeff seemed to be clean have his life on track.
This is an unfortunate situation, and we wish Jeff the best in his recovery.
H/T ProWrestlingSheet for the mugshot.
We will update this story as more emerges. Share your thoughts in the comments below.
Your Thoughts
Sign Up for a daily briefing from your #1 source for wrestling intel