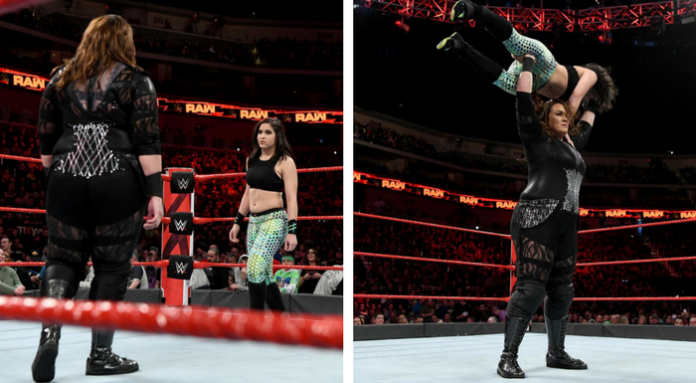 Nia Jax has made a habit of squashing local independent talent on Monday Night Raw. This week was no different – except for the fact that her opponent was legitimately a 17-year-old high school student.
Billed as Vanessa Floyd on Raw, Missouri-based independent wrestler Savanna Stone was trained under Mike Elgin and is Zero1 USA's Women's Champion; and, according to Twitter user @MidnightGuthrie, she hasn't even been wrestling a full year yet.
This is incredible. Way to go @SavannaStone01! Not even a full year in wrestling and on #RAW. And….she is legitimately still in high school. Savanna, keep this clip handy for all those classmates that think your lying about wrestling on national TV! https://t.co/FvqtsTGRRV

— Midnight Guthrie (@MidnightGuthrie) February 6, 2018
That's kind of insane. And I'll be 100% honest here: when I first saw Stone on Raw, I wrote her off; her gear looked like it was purchased from Old Navy's athletics department. But when she started taking those monster hits from Jax, Stone impressed me – and she impressed Jax, too.
Just warming up on my way to #Wrestlemania, I'm coming for you @WWEAsuka 👊🏼😈

PS I was impressed with this very young talent that stepped in the ring with me, nervous as can be, but she did such a great job! @SavannaStone01 congrats on your raw debut 😉 pic.twitter.com/b714PtpCCt

— Nia Jax (@NiaJaxWWE) February 6, 2018
Clearly, Stone is doing something right. If she keeps doing it, maybe we'll see her back in WWE sooner rather than later.
Learned so much in two days !! Time to take it to training and push myself to work even harder :))) #thankful #wrestling

— Savanna Stone (@SavannaStone01) February 7, 2018
Were you as impressed with Savanna Stone as Nia Jax? Share your thoughts and comments below!
Your Thoughts
Sign Up for a daily briefing from your #1 source for wrestling intel