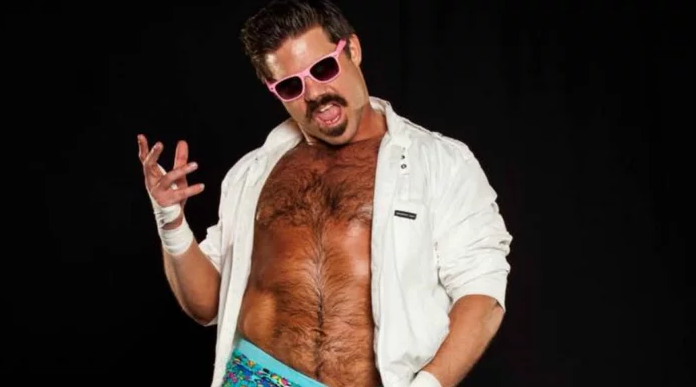 It used to be the only way to make a viable living as a pro wrestler was to make it to WWE. But, as independent wrestlers like the Young Bucks have proven, that's not the case any longer. The independent wrestling scene is quite possibly the most lucrative it's ever been, and Joey Ryan recently proved so by buying a $525,000 house in Los Angeles with money that he and his wife, fellow wrestler Laura James, made from independent wrestling.
Joey Ryan bought a house — in Los Angeles for $525,000 — with independent wrestling money https://t.co/yw4O7gznIh @JoeyRyanOnline pic.twitter.com/WqJDKpvEVW

— Justin Barrasso (@JustinBarrasso) February 21, 2018
Ryan shared the exciting news in an interview with Sports Illustrated:
"Five years ago, this wouldn't have been possible," said Ryan. "The wrestling business has changed."

The purchase is especially noteworthy because the money spent purchasing the $525,000 house in Los Angeles–complete with two bedrooms, one bathroom, and a pool–was earned through pro wrestling.

This is the first foray into home ownership for the couple, who are currently renting a home in LA.

"This is possible because of the support from the fans of independent wrestling," said Ryan. "Without those fans, the whole independent wrestling scene wouldn't be as prominent as it is."
Yes, you read that correctly: in Los Angeles, $525,000 only gets you a two-bedroom, one-bathroom home. But no matter the bang for your buck, being a homeowner always beats renting.
Ryan is known for being one of pro wrestling's more colorful characters – and he believes he has wrestling's "internet fans" to thank for turning the business into performance art:
"A lot of people like to disparage the internet, but the independent wrestling scene is thriving because of the fans on the internet," said Ryan. "The fans have made professional wrestling a performance art, where we can try these ideas. Some of it falls flat, which is how art works. But if you don't try the things that fall flat, you also wouldn't find the ideas that catch on."
Ryan certainly isn't afraid to try out-of-the-box ideas. In December, he brought in Macaulay Culkin for a Christmas-themed match at Bar Wrestling, complete with Home Alone-esque hijinks. He and his former tag team partner, new WWE signee Candice LeRae, routinely smashed the barriers of intergender wrestling as the "World's Cutest Tag Team." Ryan's also been confirmed for the fourth season of Lucha Underground, where his flair for the dramatic will be right at home.
Congratulations to Ryan on buying his first home!
Do you consider wrestling to be performance art? Do you think internet fans have changed the landscape of professional wrestling? Share your thoughts and comments below!
Your Thoughts
Sign Up for a daily briefing from your #1 source for wrestling intel