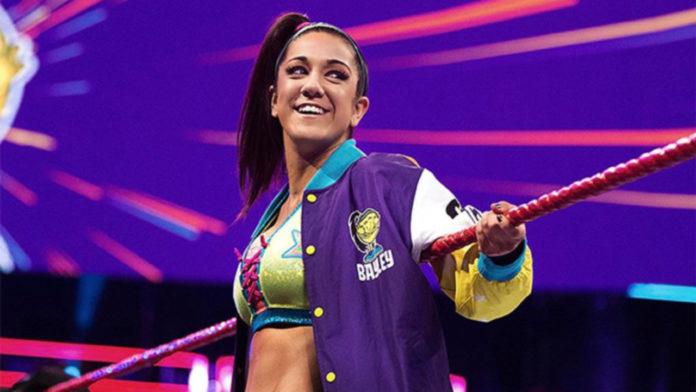 During Sunday's women's Elimination Chamber match, Sasha Banks stabbed Bayley in the back by throwing her off the top of one of the pods, not unlike how Scar threw Mufasa to his death in The Lion King.
Also did anyone get lion king vibes from @itsBayleyWWE and @SashaBanksWWE in the #WWEChamber pic.twitter.com/GsGT1p4URl

— Ember Moon (@WWEEmberMoon) February 26, 2018
It was a moment that pretty much everyone but Bayley had seen coming from a mile away, and suddenly it seemed that Sasha vs. Bayley would be the next big feud heading into WrestleMania.
But then, inexplicably, the next night on Raw, Sasha worked alongside Bayley to help save Asuka from Alexa Bliss and her semi-reluctant allies, Mickie James and Nia Jax. A 6-woman tag match ensued – and then this happened:
.@itsBayleyWWE has had enough! pic.twitter.com/9sZlNxHb3m

— TDE Wrestling (@totaldivaseps) February 27, 2018
Your eyes have not deceived you: that's squeaky clean, "friendship is magic" Bayley abandoning Sasha in her time of need.
In all fairness, Bayley did return to help Asuka win the match – but her denial of Sasha continued. After the match, she ominously told Mike Rome that she has her "reasons" for turning her back on Sasha.
She also posted a rather passive aggressive response to Sasha's Instagram post following her loss to Alexa in the Elimination Chamber.
But, because this is wrestling, the new developments in their feud left us with more questions than answers. Will they square off at WrestleMania? And, more importantly, did WWE just pull a double-switch and make Bayley a baddie?
To answer that second question in a nutshell: no, they probably didn't.
As much as I'd like to see Bayley go bad (mostly because it's extremely difficult for me to picture), the fact of the matter is that she's basically the female John Cena – beloved by children, defined by a "never give up" attitude, and therefore a perpetual babyface. What happened on Raw was not a turn; instead, it's more likely that Bayley is upset with Sasha for taking their friendship for granted and wanted the Boss to get a taste of her own medicine.
But even though it's not a full turn, I think this character shift is good for Bayley. For a long time now she's come across as rather naive in her optimism, a trait that was definitely portrayed as a flaw in her awful feud with Alexa Bliss. Maybe now that Sasha has finally served her a dose of cold hard reality, Bayley's character will become more realistic and relatable – and maybe even a bit more dangerous. If I were Sasha, I'd watch my back.
What do you think Bayley's reasons are for snubbing Sasha? Do you think she should turn heel? Share your thoughts and comments below!
Your Thoughts
Sign Up for a daily briefing from your #1 source for wrestling intel